ISIS burns alive Jordanian pilot it kept hostage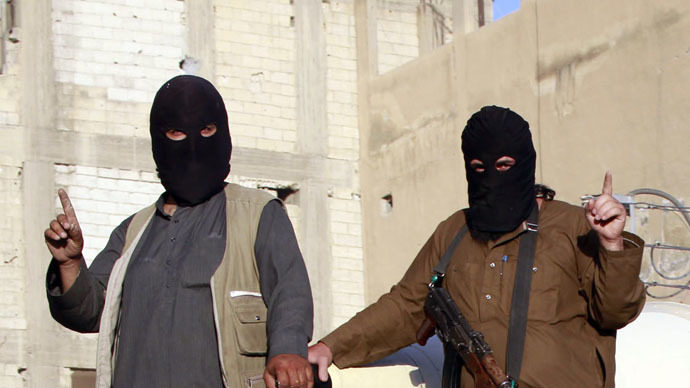 The Islamic State has released a video, purportedly showing Moath al-Kasasbeh, the Jordanian pilot captured in December, being burned alive. The Jordanian government had pleaded with IS to release the hostage in exchange for a captured terrorist.
A member of al-Kasasbeh's family has been informed by the head of the Jordanian armed forces that he has been killed, Reuters reported. According to national television, Jordan now believes he was executed as far back as January 3, exactly one month ago, though the government has refused to directly confirm the news to Western news agencies.
The video itself, which was posted on social media, but is not being shared by RT for ethical reasons, appears to have been a carefully staged production, shot from several angles, and sound tracked with religious hymns. It shows al-Kasasbeh being led out into a square in front of a squadron of masked men, before being placed in a cage. A rope lying outside the cage is then lit up, and the hostage is engulfed in flames. The execution is in contrast with the customary beheadings, practiced by the Islamic State (IS, formerly ISIS).
READ MORE: 'Inhumane & contemptible': ISIS beheads Japanese hostage Goto
Al-Kasasbeh was captured after his plane crashed over an IS-controlled part of Syria, following a bombing mission on December 24. The US-led air strikes in the region since September have helped stem IS expansion through Syria and Iraq.
In the past few weeks, Al-Kasasbeh and two Japanese captives have been part of failed negotiations between the Islamic State and Japanese and Jordanian governments.
The Islamic State had first demanded $200 million then the release of Sajida al-Rishawi, a female Iraqi Al-Qaeda militant, who is imprisoned in Iran, in exchange for the release of journalist Kenji Goto, and security expert Haruna Yukawa.
READ MORE: ISIS threatens to execute Jordanian hostage unless Iraqi prisoner released by Thursday sunset
Jordan had agreed to let al-Rishawi go, but only if al-Kasasbeh was included in the deal. But by then, he may have already been dead, and the Islamic State simply executed its Japanese hostages without receiving their ransom.
Washington, which is a close ally of Jordan, has condemned the killing of al-Kasasbeh, who was flying a US-made F-16, when he either crashed, or was shot down.
"Whatever ideology they [IS] is operating off of, it's bankrupt," President Barack Obama told the media in Washington, saying the video showcased the "viciousness and barbarity" of the fundamentalist group.
"The United States strongly condemns ISIL's actions and we call for the immediate release of all those held captive by ISIL," said a statement from White House spokeswoman Bernadette Meehan, using another acronym for Islamic State.
The Administration has requested $8.8 billion in its 2016 budget to fight the Islamic State.
UN Secretary General Ban Ki-moon also denounced the murder of al-Kasasbeh. "The Secretary General condemns the killing of...al-Kasasbeh by Daesh (Islamic State), a terrorist organization with no regard for human life," the UN press office said in a statement. Ban Ki-moon also called on "all governments to strengthen their efforts to combat the scourge of terrorism and extremism within the bounds of their human rights obligations."
Moreover, Japanese Prime Minister Shinzo Abe expressed deep anger over the incident, referring to it as an "outrageous" killing. Abe said on Wednesday that he offered his condolences to Jordan and had plans to increase the nation's humanitarian support in the region.
You can share this story on social media: