Constant shelling in Donetsk as peace talks in Minsk end in blame game
Shelling of the eastern Ukrainian city of Donetsk is continuing practically non-stop with shells landing in civilian areas after mediators' talks failed Saturday. Militia and Kiev forces are fighting for the strategically key area of Debaltsevo.
Officials of the self-proclaimed Donetsk People's Republic (DPR) said at least three civilians have been killed by Ukrainian artillery fire targeting residential areas overnight.
"Overnight, the Ukrainian troops fired about 30 barrages at DPR cities. The night shelling injured 14 civilians" in two of the city's neighborhoods, reported Eduard Basurin, deputy defense minister in the DPR.
Mortar shelling of #Donetsk continues. Thats a school near the center. Good thing it's Sunday and no kids were there pic.twitter.com/mMTf36FYlZ

— Roman Kosarev (@Kosarev_RT) February 1, 2015
Four more people have been killed on Sunday, the militia said, while the total number of injured over the past 24 hours is being counted at over 20. They blamed Ukrainian units holding two villages northwest of the city and several infiltration groups for the violence.
"They drive the streets in common freight mini-vans or garbage trucks and fire mortars they have inside at civilian and military targets, mostly to spread panic," a militia official told RIA Novosti.
Ukrainian shells landed on two residential buildings, near a school, at the roof of a morgue near one of the city's hospital and at garages, reports said.
#Donetsk Mortar strike damaged trolleybus depot. No victims. However 1 civilian killed 4 wounded in nearby shelling pic.twitter.com/b2Ut0KNDyl

— Roman Kosarev (@Kosarev_RT) February 1, 2015
The continued violence prompted local authorities to keep all schools closed until Wednesday.
Meanwhile clashes between Kiev loyalists and militia forces continued along the front line. Kiev reported losing 13 soldiers dead in the past 24 hours of hostilities. A further 20 soldiers were injured in the clashes, a military spokesman said. Their opponents offered no update on their casualties.
The Azov volunteer battalion reported a failed attempt to storm the city of Uglegorsk, a site of fierce fighting over the past few days. The militia forces claimed capturing it on Friday, but the Ukrainian military denied surrendering the strategically important location.
"The units of the Ukrainian Army and National Guard have fallen back from Uglegorsk. The city is de facto under enemy control," the battalion said on its web page.
READ MORE: Thousands of Ukrainian troops thought to be trapped in Donbass
Uglegorsk is one of key points in the district of Debaltsevo, which is controlled by Kiev and protrudes deep into the militia-held territory. There are some 8,000 Ukrainian troops reportedly holding the region, who are at risk of being severed from their supply lines.
The OSCE called on Sunday for the continuation of attempts to negotiate a new ceasefire after talks on Saturday failed to produce any sort of agreement. Kiev and their opponents accused each other of derailing the talks.
The Ukrainian government said DNR and the self-proclaimed Lugansk People's Republic, failed to send to Minsk officials with a high enough rank to sign a new agreement.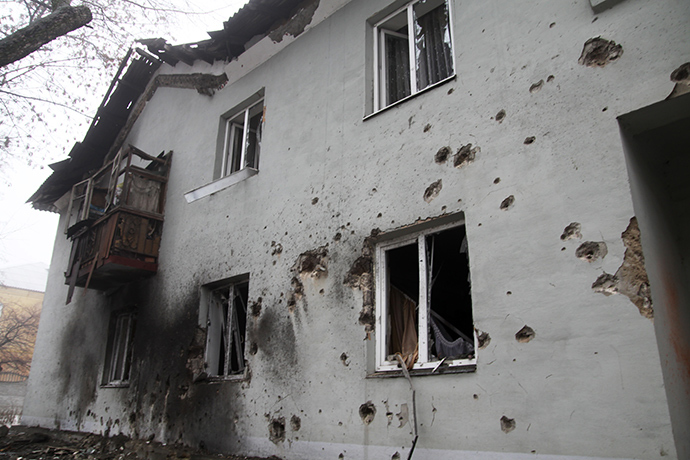 The previous one signed in Minsk in September 2014 was never fully implemented and collapsed completely in January, as the violations of the ceasefire by both parties escalated.
READ MORE: No breakthrough as Ukraine peace talk parties meet in Minsk amid worsening crisis
The militia said they are willing to negotiate, but wants Kiev to order a ceasefire first.
"We are prepared for dialogue and are willing to act within the framework of the Minsk agreement, but it should be a dialogue, not Kiev's monologue," Denis Pushilin, who represented the DNR at the Saturday meeting, told the media.
The rebels insisted that Ukrainian President Petro Poroshenko gave the order to his troops to stop all hostilities before any document could be signed. They also want to renegotiate the disengagement line that would separate territories controlled by Kiev and the self-proclaimed republics to correspond to their latest military advancement. Ukraine insists that the territories it lost over January, including the ruins of Donetsk International Airport, should be surrendered.
According to the UN's estimate, the civil war in Eastern Ukraine has claimed at least 5,000 lives since April 2014, when residents in Donetsk and Lugansk regions of Ukraine took up arms against a coup-imposed government in Kiev, which responded with a military crackdown on the area.
You can share this story on social media: