Thousands of Ukrainian troops thought to be trapped in Donbass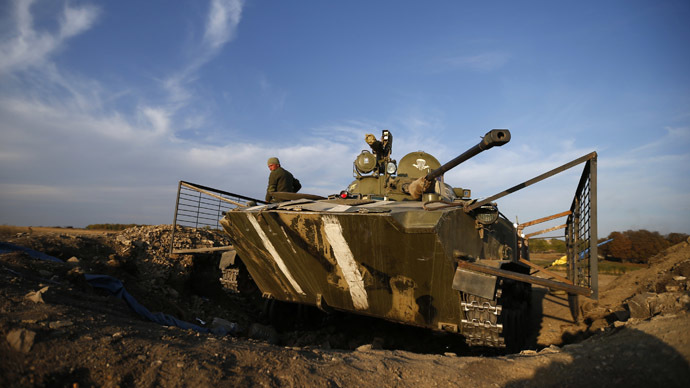 Some 8,000 Ukrainian troops are believed to be surrounded near the village of Debaltsevo in Donbass, as militia units cut off the only road linking the pocket to Kiev-held territory. The servicemen have been offered the chance to surrender.
The forces of the People's Republic of Donetsk (DPR) have stormed and captured the town of Uglegorsk, a stronghold of the Ukrainian army in the east of the country used for communication and supply. It is about 10 kilometers from Debaltsevo.
This situation map reveals a large #Ukraine force surrounded in the Debaltsevo cauldron by the #Donetsk boys. pic.twitter.com/8hpozBDMPY

— Phil Butler (@Philbo) January 28, 2015
Ukrainian MP and commander of the Donbass volunteer battalion Semyon Semenchenko, says on his Facebook page that Uglegorsk has been abandoned by Ukrainian forces. Semenchenko claimed that the rebels attacked his unit from the rear.
READ MORE: Kiev used barrier squads to prevent troops from retreating – E. Ukraine militia
Donetsk People's Republic head Aleksandr Zakharchenko says Uglegorsk was captured in a violent "dawn-to-dusk operation" and offered enemy troops to surrender, promising to spare their lives.
"Guys, my proposal is to lay down arms and surrender. You're fighting the wrong people. You have the only chance to save your lives. Surrender and you will live. I promise that all of you will return home afterwards," Zakharchenko said.
Following the offer, 11 Ukrainian soldiers have already "crossed the DPR's border" and surrendered to the rebel forces. "Their lives are not in danger," DPR Defense Ministry spokesperson Eduard Basurin said.
Meanwhile, the Lugansk Republic's forces are currently battling for the town of Popasnaya, Basurin said. "If the LPR militias capture Popasnaya and move towards Artemovsk – there will be yet another pocket to the north of the one near Debaltsevo," he warned.
Meanwhile, Kiev authorities have reportedly empowered army commanders to gun down deserters on the spot.
A leaked document published on Cyber Berkut hacktivist website alleges that Ukraine's Security Service has forbidden hospitals from revealing the real losses on the battlefield.
The Kiev authorities have called an emergency meeting of the cabinet on Friday to discuss the situation in the east.
It has been rapidly worsening since January 18, when Ukrainian troops have launched a massive assault on militia-held territories after an order from Kiev.
READ MORE: Donetsk shelled as Kiev 'orders massive fire' on militia-held E. Ukraine
Shelling of the rebel-controlled towns is done on a daily basis, including the metropolitan city of Donetsk with warring sides pointing fingers at each other.
@JamesRon1980@amitashi01 8,000 to 12,000 Ukie troops inside #Debaltsevo area Being encircled & pounded by #NAFpic.twitter.com/8Qm3AOzaXm

— Greg Galloway (@NewsCoverUp) January 24, 2015
On Monday Ukrainian Prime Minister Arseny Yatsenyuk imposed a state of emergency in the war-torn south-eastern Donetsk and Lugansk Regions, while all other territories were put on high alert.
READ MORE: Heavy weapons in Ukraine must be pulled back urgently – 'Normandy Four'
Meanwhile the Ukrainian military draft for 2015 has come into effect. It's expected to see 100,000 people joining the army in three stages throughout the year.
Trophys from Uglegorsk, left by Ukrops to NAF via @FPaidinfullpic.twitter.com/GJu6sTQbD4

— Olivier Fehr (@ofehr_en) January 29, 2015
READ MORE: New military draft starts in Ukraine amid intensified assault on militia-held territories
Kiev authorities have revealed that since the beginning of the latest draft as many as 10,000 Ukrainian servicemen are absent from their posts.
You can share this story on social media: