Rail strike: Train passenger assaults driver, causes Paris rush hour havoc (PHOTOS)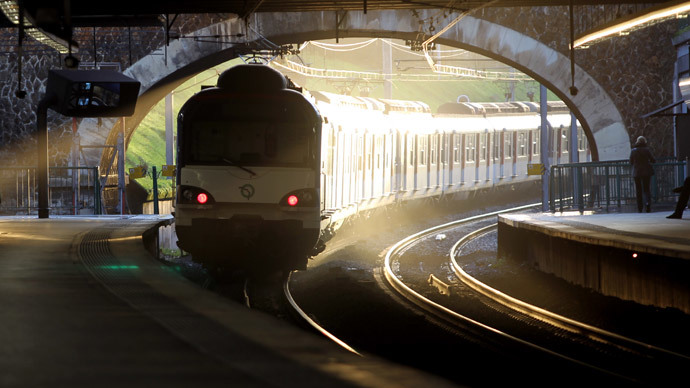 Paris experienced a commuter chaos on Wednesday night, after an outraged passenger attacked a train driver on the RER A regional train line on the outskirts of the French capital.
In the suburb of Torcy, the passenger set off the train alarm system after his hand got stuck in the closing doors, and then head-butted the driver, who had left his cabin to reset the alarm system.
OH.MY.GOD 0_0 Saint Lazare via @_yavin_#RERApic.twitter.com/RK0vW0P97W

— Daisy Lorenzi (@D_Lorenzi) January 29, 2015
The passenger then fled, and the train driver had to be taken to hospital with a broken nose, French newspaper Le Parisien reported.
Ici c'est Paris... RER A down... pic.twitter.com/g2iaQHbTLe

— Thierry Debarnot (@ThierryDebarnot) January 29, 2015
This could have ended there, but the attack caused a strike among other train drivers, in turn triggering disruptions on the RER A line. It runs through the city center, so commuter chaos began across the whole city.
Happy Thursday #RERA#Paris#Garesaintlazare#RATPpic.twitter.com/mFRUuPVNPS

— Constance Millour (@constancemlr) January 29, 2015
Additional buses had to be arranged to take angry passengers to their workplace, but still havoc reigned at major Metro stations such as St. Lazare.
Merci la ratp #RERApic.twitter.com/NsbRY81NyH

— trafalgar law (@hxdri) January 29, 2015
The Secretary of State for Transport has expressed his "solidarity" with the attacked driver, but said that the interruption of traffic on the busiest line in Europe "can't be the right answer."
Agression sur le RER A trafic interrompu. Énorme bouchon voyageurs à St Lazare pic.twitter.com/AQKnEPF1et

— Franck Lassagne (@FranckLassagne) January 29, 2015
Alain Vidal demanded "the RATP [Paris transport system] management and labor organizations to develop an appropriate and responsible response to these exceptional circumstances, taking into account the need to protect employees and respect for commuters."
Tu annule le rer A et tu bloque le rer d et voila le résultat. Merci la #sncf#RERA#rerD#RATP#transport#qmlpic.twitter.com/Y9orXXNvZD

— Lawyer from Paris (@shavesp) January 29, 2015
RER A serves about 1 million passengers a day, connecting the western suburbs to the Defense business area and the city center.
Fashion week : superbe défilé RATP collection RER A pic.twitter.com/SGveiUIcb8

— Stéphane Kohler (@StephaneKohler) January 29, 2015
You can share this story on social media: