Helicopter carrying ton of hash crashes in Spain, killing 2 pilots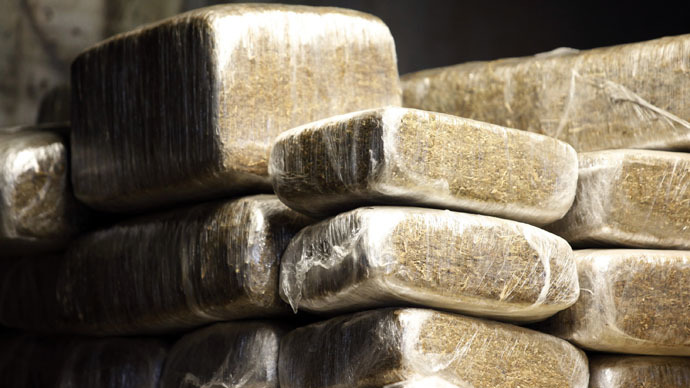 A helicopter trying to smuggle almost a ton of hashish into the Malaga province of Spain crashed into an electricity pylon during a police chase, killing both pilots on board.
Authorities recovered the bodies, which were badly burned from Tuesday's accident near the mountain town of Cortes de la Frontera. The remains have now been transferred to the Forensic Medicine Institute of Malaga.
"We are working to determine how much hashish was on board," police spokesman told AFP. Local media reports that up to a ton of hashish was recovered by authorities.
Un helicóptero cargado de hachís se estrella en España, dos muertos http://t.co/AG8ni9DTnfpic.twitter.com/o88WHMJwKK

— Ecuavisa (@ecuavisa) January 28, 2015
The incident happened after a Guardia Civil helicopter was scrambled to chase down a camouflaged, black-painted chopper that was following an unauthorized flight path.
During the pursuit, the officers lost sight of the suspects and had to return to base. In the morning, they flew to the last known position of the helicopter and discovered the wreckage.
RT @DiarioSUR: #PHOTOS | @VanessaMelgar4 was at the scene of the helicopter crash #Rondahttp://t.co/dWah4HwgjTpic.twitter.com/eURWGQbKge

— SUR in English (@SUR_english) January 28, 2015
The helicopter was badly damaged, split into several pieces caught in the middle of bushes. Two bodies were found in the wreckage along with some 30 packages of hashish. Police are investigating where the recovered substance came from.
Most cases of drug smuggling to southern Spain come through Morocco, due to its vicinity to North Africa.
Al menos dos muertos en un accidente de un helicóptero con 1.000 kg de #hachís en #Málaga | http://t.co/56T3j4S6YMpic.twitter.com/OrQQcwYbNk

— Bolsamanía (@bolsamania) January 28, 2015
Since June 2013, Spanish authorities have seized more than 100 tonnes of hashish in various operations, according to AFP. Hashish, or hash, is a cannabis product composed of compressed ingredients of THC and other cannabinoids, often in higher concentrations than marijuana plants.
You can share this story on social media: