Moscow on 'spy scandal': No grounds for arrest, US stoking 'anti-Russian feelings'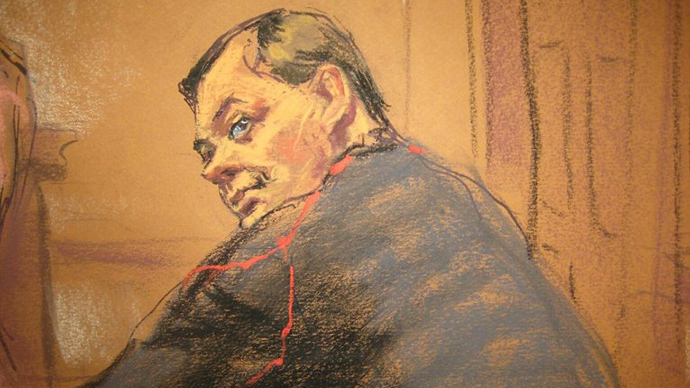 Russia's Foreign Ministry has demanded the immediate release of Evgeny Buryakov, the Russian bank employee arrested for espionage in New York on Monday, and says the accusations against him and two of his fellow countrymen are "groundless."
"We are getting the impression that the US is resorting to its favored tactic of creating a spy scandal. Relations between Russia and a hostile Washington have long been suffering a difficult period. Obviously thinking, the worse it is, the better, the US has launched another wave in its anti-Russian campaign," Foreign Ministry spokesman Aleksandr Lukashevich said in Moscow.
39-year-old Buryakov, who worked for the New York office of Russia's Vnesheconombank (VEB), faces up to five years in jail for his part in "a conspiracy to act in the United States as an agency of a foreign government without first notifying the Attorney General."
"We demand a halt to the string of provocations against Russian officials, orchestrated by the US secret services. We also request immediate consular access to Buryakov, as well as meticulous respect for his rights as a Russian citizen, and his release," Lukashevich said.
READ MORE: 3 Russians charged with spying, 1 arrested in New York - FBI
Working outside any official diplomatic capacity – under "non-official cover" – Buryakov was labeled an "extremely valuable intelligence asset" in FBI statements released this week, following an investigation that reportedly began back in 2010.
The two officials who allegedly assisted him were Igor Sporyshev, a government trade representative, and Victor Podobnyy, who served as one of Russia's attaches to the UN. Both face charges of up to 10 years, but have diplomatic immunity and have left the country anyway.
"No evidence has been presented that would back up these accusations," Lukashevich said.
FBI Buryakov investigation involved not just wiretaps, but CIs, physical surveillance, hidden cameras & hidden mics. pic.twitter.com/nLymJQDLoy

— matt blaze (@mattblaze) January 27, 2015
FBI documents detail allegedly tapped conversations between the three. In one, Podobnyy and Sporyshev supposedly complain that their lifestyle does not match up to depictions of James Bond. In another, they reportedly discuss best strategies for recruiting college students to work for the SVR, Russia's foreign intelligence service.
One of the agents in alleged Russian spy ring expressed surprise that the work wasn't like a James Bond movie pic.twitter.com/ZkWTIEkduy

— Brett LoGiurato (@BrettLoGiurato) January 26, 2015
In 2014, FBI also set up a meeting with a fake investor interested in opening a casino in Russia. During the interview with Buryakov, he "demonstrated his strong desire to obtain information about subjects far outside the scope of his work as a bank employee."
Buryakov's lawyer has sought bail for him, while the other two men, presumably currently in Russia, have not commented on the charges.
The last comparable operation against purported Russian spies in the US took place in 2010, in which Anna Chapman and nine other "sleeper agents" were fingered by the FBI. Coincidentally, the records of the latest bust show that Sporyshev commented that the expelled agents from 2010 "weren't doing s**t" at the time of their arrests.
You can share this story on social media: