ISIS-affiliated gunmen storm Tripoli hotel, blow up car bomb & kill guards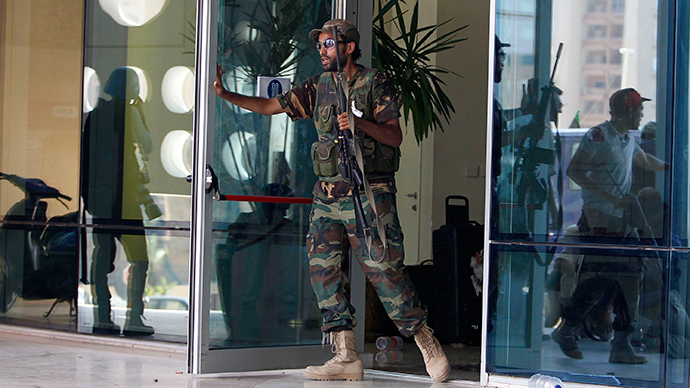 Two Islamic State-affiliated gunmen stormed a luxury hotel in the Libyan capital of Tripoli. They took hostages and killed at least eight people, including an American and a Frenchman, before committing suicide with explosives.
US security firm Crucible LLC has confirmed one of its contractors was killed in the attack. The US State Department also confirmed the death of a US citizen, providing no additional details. Tripoli security spokesman Essam Naas added that a Frenchman was among those killed in the attack.
"The attackers opened fire inside the hotel, killing four foreigners, two men and two women, who are believed to be from East Asian countries," added Omar Khadrawi, head of Tripoli security. It was not immediately clear whether the foreigners were guests at the hotel or staff members.
Security official in Tripoli tells me one American,one Frenchman,2 Filipina women among 11 dead in #Libya hostage crisis at Corinthia Hotel

— Bel Trew - بل ترو (@Beltrew) January 27, 2015
The attackers made their way inside the building and through security by blowing up a car bomb in the hotel's parking lot which killed three guards. Another security officer was reportedly killed in the subsequent shootout.
The gunmen then went up to the 21st floor of the hotel, which houses foreign diplomats and representatives of foreign companies. They took 12 hostages there, according to various media reports.
Apparently 1of the gunmen in #Corinthia Hotel blew himself up in the firefight about 20 minutes ago. Situation still fluid,deathtoll unknown

— Bel Trew - بل ترو (@Beltrew) January 27, 2015
When surrounded by security forces, one of the attackers detonated a grenade which killed the gunmen.
Pictures of two Corinthia Hotel attackers pic.twitter.com/iERqPh8QDY

— The Libya Observer (@Lyobserver) January 27, 2015
Islamic State (formerly known as ISIS, or ISIL) claimed responsibility for the attack, according to the jihadist online monitoring service SITE.
مواقع مقربة من #داعش تبث صور لتفجير فندق كورنثيا بالعاصمة #طرابلس و تصف العملية بأنها " غزوة الشيخ أبو أنس الليبي " pic.twitter.com/zuJlwnRwCS

— noman benotman (@nbenotman) January 27, 2015
The confrontation at the Corinthia Hotel began Tuesday morning when a group of five masked gunmen blew up a car bomb in the hotel's parking lot and broke into the premises.
Breaking: Car bomb outside and gunfire inside at the 5 star Corinthia Hotel in #Tripoli#Libya this morning pic.twitter.com/tgjHSbwwg5

— James Wheeler (@wheelertweets) January 27, 2015
Photos of explosion at Corinthia Hotel #Tripoli v @Morning_LY 20th floor shootout reported pic.twitter.com/Ni68wPxt36pic.twitter.com/RkxwxBkHyy

— reported.ly (@reportedly) January 27, 2015
The hotel had European and Turkish guests at the time of the attack. Most of them were evacuated along with the staff, said Hassan al-Abey, a corporate sales manager at the hotel, adding that he was among the evacuees.
Photo: Occupants evacuate buildings near #Tripoli's Corinthia hotel following bomb blast. #Libyapic.twitter.com/wFwuNFcdVf

— LibyaAlHurra (@LibyaAlHurraTV) January 27, 2015
Some media reports suggest that the attack could be revenge for the death of Abu Anas al-Libi, an alleged al-Qaeda member who was captured by US special forces in Libya and died this month in a US hospital.
#Breaking: IS claims responsibility for attack on Corenthia hotel in the capital #Tripoli. Says revenge for Abu Anas' death in US. #Libya

— Mohamed Eljarh (@Eljarh) January 27, 2015
Libya, a once-prosperous north African nation, descended into chaos when NATO-supported rebel forces took up arms to oust longtime leader Muammar Gaddafi.
After scoring a military victory, various rebel groups failed to form a stable government, with the country de facto being partitioned into rival territories.
Libya's parliament was forced to move to the eastern city of Tobruk after Islamist-allied militants seized control of Tripoli. The country's internationally-recognized cabinet is holding sessions in another city in eastern Libya, Bayda.
But even those cities are far from being safe. A deputy foreign minister was kidnapped from his hotel room in Bayda on Sunday, and released a day later.
You can share this story on social media: