Facebook denies outage due to Lizard Squad hack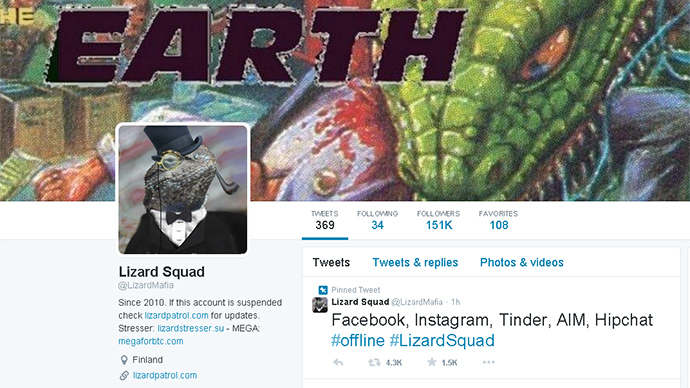 The Lizard Squad hackers' group has claimed responsibility for Tuesday's outage on Facebook and Instagram. Facebook officials, however, denied it was a hack attack, saying it occurred after they introduced a change affecting configuration systems.
READ MORE: Facebook, Instagram both down briefly on Tuesday, internet users freak out
"Facebook, Instagram, Tinder, AIM, Hipchat #offline #LizardSquad," the group tweeted.
Facebook, Instagram, Tinder, AIM, Hipchat #offline#LizardSquad

— Lizard Squad (@LizardMafia) January 27, 2015
The networking sites were unavailable from 06:00 GMT for about 40-60 minutes.
The map was released on social media showing the alleged DDOS attack worldwide. The main targets are the US, Russia, Taiwan and the Netherlands. The origins of the hack are found in the US, China and the Netherlands.
#Facebook, #Instagram, #Tinder + others down apparently due to huge DDOS attack http://t.co/AHmIDiwx9Bpic.twitter.com/A2FPwTK2jb

— RT (@RT_com) January 27, 2015
Lizard Squad, a black hat hacking group, came under spotlight on Monday after the hackers claimed responsibility for the attack of website of Malaysia Airlines.
"More to come soon. Side note: We're still organizing the @MAS email dump, stay tuned for that," the group tweeted recently, apparently meaning that they are not done with the Malaysia Airlines website.
READ MORE:Malaysia Airlines website 'Hacked by Cyber Caliphate'
Lizard Squad earlier claimed responsibility for hacking the Sony PlayStation Network and Microsoft's Xbox Live network in December.
Facebook issued a statement about the outage, saying that their engineers had "identified the cause of the outage and recovered the site quickly."
"You should now see decreasing error rates while our systems stabilize. We don't expect any other break in service. I'll post another update within 30 mins. Thank you for your patience," the statement said.
A Facebook spokesman, however, denied that the outage was caused by a hack.
"This was not the result of a third party attack but instead occurred after we introduced a change that affected our configuration systems. We moved quickly to fix the problem, and both services are back to 100 percent for everyone," the company said in a statement emailed to CNBC.
At the moment it is difficult to say whether the attack was carried out from outside or "it was really an internal configuration like Facebook claims," Bruno Kramm, chairman of the Pirate Party (Berlin branch), told RT.
"Facebook always needs to keep the trust of the users [of] the network, therefore it sounds much better to the users that it had been an internal mistake, internal error instead of an attack, as Facebook [has] a lot of private information of users and they should be safe due to safety regulations. It's really important that everything keeps inside Facebook. Therefore they are afraid that it would come up that it was really an attack from outside," he told RT.
You can share this story on social media: