Clashes with police as sex education protesters attacked in Germany (VIDEO)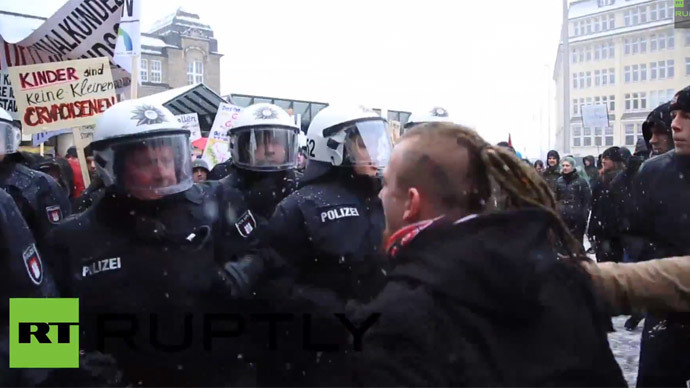 Some 150 Hamburg residents protesting against 'early sexualization' in German schools were pelted with bottles, firecrackers and snowballs by counter-demonstrators who outnumbered them 4-to-1.
READ MORE: Freedom of expression 'in danger' as Talk Talk blocks online porn
Holding placards with slogans such as "Stay away from our children" and "Kindergarten is not a swingers club" the Concerned Parents ("Besorgte Eltern"), as the group calls itself, had to be guarded by police on all sides as they marched through the northern German city.
The conservative and mostly religious demonstrators were soon engulfed by a colorful crowd from sexual minorities carrying rainbow flags and hand-painted signs celebrating diversity and tolerance to radical left-wingers and anarchists.

Several of the more militant counter-protesters attempted to block the crowd from completing their planned route between the central station and the city hall, as scuffles broke out.

A fifteen-year-old boy sustained head lacerations, and at least one counter-demonstrator was taken into custody.
Previous demonstrations by Concerned Parents have ended with similar incidents, including one in the south of the country that saw members of the group pelted with feces.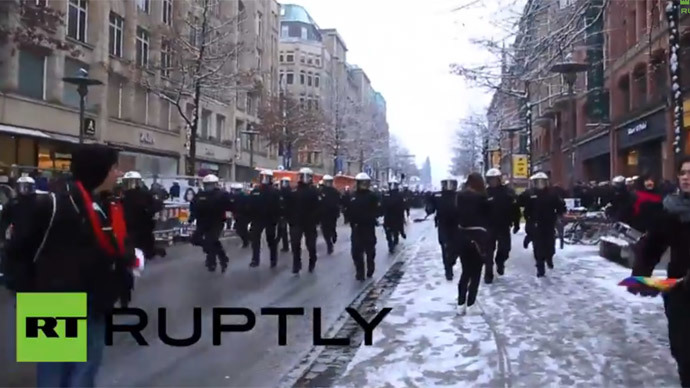 Sex education has been taught in (then-West) Germany since the 1970s, and is compulsory in all schools. Since psychologists believe the initial peak of children's curiosity about sex comes between the ages of three and six, there are also extensive program to teach pre-school children.

Both the extent and the nature of such education have become hot points of contention. In 2013 a scandal broke out in a pre-school in Berlin's trendy Kreuzberg district, after it emerged it was using a book called "Where do you come from?" ("Wo kommst du her?"), detailing the relationship between a fictional cartoon couple Lars and Lisa.

As well as explicit illustrations of erect penises, it also features sentences such as "When it's so good that it can't get any better, Lisa and Lars have an orgasm," and "the vagina and penis feel nice and tingly and warm."

Religious conservatives have also opposed children being taught about homosexuality and transgenderism at a young age in areas controlled by left-wing local authorities.
You can share this story on social media: