Obama: Congress should begin lifting Cuba embargo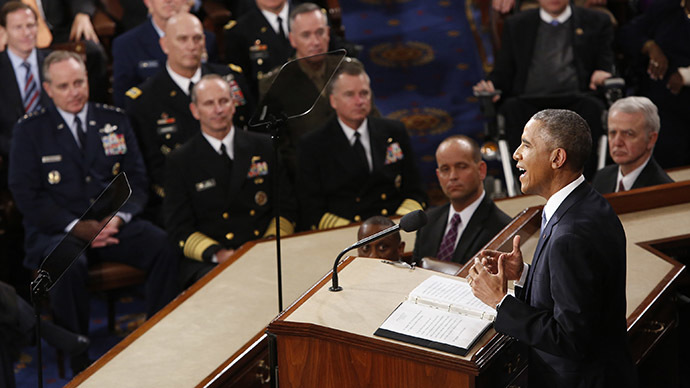 US President Barack Obama has called on Congress to begin work on ending the five-decade Cuban embargo in 2015. Instead of "a phony excuse for restrictions," Washington is now offering "the hand of friendship to the Cuban people," he said.
"In Cuba, we are ending a policy that was long past its expiration date. When what you're doing doesn't work for fifty years, it's time to try something new. Our shift in Cuba policy has the potential to end a legacy of mistrust in our hemisphere; removes a phony excuse for restrictions in Cuba; stands up for democratic values; and extends the hand of friendship to the Cuban people," Obama said during his State of the Union address on Tuesday.
According to the US President, Congress should begin the process of lifting the embargo this year. Obama went on to quote Pope Francis to express his optimism in the possibility to mend the severed relations between the two countries.

"As His Holiness, Pope Francis, has said, diplomacy is the work of "small steps." These small steps have added up to new hope for the future in Cuba," Obama said.
In a symbolic gesture, USAID contractor Alan Gross who was recently released from a Cuban prison, was invited to hear Obama's address in person, and was welcomed by the president. Gross was prosecuted in Cuba for illegally bringing satellite phones and computer equipment to members of the local Jewish community after being accused of working for US spy services.
READ MORE: Cubans release 53 prisoners after Obama announces thaw in relations
The release of Gross in December came against the backdrop of a thaw in diplomatic relations. This also saw the release of the "Cuban Five" – five intelligence officers arrested in Miami in 1998 and convicted of conspiracy to commit espionage against the US. It was believed the Cuban spies were sent to infiltrate anti-Castro groups, and Havana later claimed the mission was launched, following several terrorist bombings by a former CIA agent.
Reports citing several US officials said that Havana recently released 53 prisoners in a major step towards normalizing relations with Washington.
READ MORE: Obama announces US will establish embassy in Cuba, lift sanctions
Obama extended the trade embargo against Cuba in September 2014, citing "national interests," before announcing a policy shift later just three months later.

In October, the United Nations General Assembly overwhelmingly voted to condemn the US's economic and trade embargo against Cuba for the 23nd year in a row. By a vote of 188 to 2, the 193-member assembly approved Havana's resolution, which accuses Washington of causing over $1.126 trillion in damages as a result of over 50 years of trade sanctions. Only Israel joined the US in the vote against the resolution, with three countries abstaining.
READ MORE: 'Offended' Israel not to support publicly the US-Cuba breakthrough - report
Washington began imposing economic penalties on Cuba when Fidel Castro seized power in 1959 and nationalized property owned by American individuals and corporations.

The measures were ratcheted up three years later by the US government to a full embargo on Cuba. At the same time, Washington sponsored several attempts to try and overthrow Castro's regime, including the infamous the Bay of Pigs Invasion of 1961 where the US was defeated by the Cuban revolutionary forces.

A strong majority of Americans support normalizing relations with Cuba and lifting the embargo, according to the recent poll by the Washington-based think tank, the Atlantic Council. 56 percent of respondents around America favour a change in Washington's Cuba policy.
You can share this story on social media: