Good Catholics don't need to breed 'like rabbits' – Pope Francis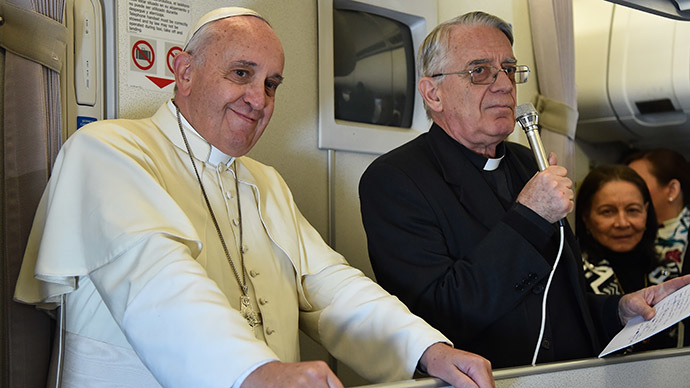 Pope Francis defended the Catholic Church's ban on contraceptives, stating that followers of the faith don't have to breed "like rabbits" and there are other ways, including natural family planning, that could be used to regulate births.
READ MORE: Pope Francis: Listen to women, men are too machista
"Some think – excuse me if I use the word – that in order to be good Catholics, we have to be like rabbits – but no," Pope Francis told journalists while on the plane from Rome to the Philippines on Monday.
He added that there are "licit" ways to control parenthood such as, "responsible parenting," which is a method of abstaining from intercourse during the time a woman is ovulating.
The issue of contraception came to light during Pope Francis' visit to the Philippines, where the local Church is against the government's proposition to make contraceptives more accessible to the general public.
Francis said that he reprimanded a woman who put her life at risk by becoming pregnant after giving birth to seven children via cesarean section. He said she was "tempting God" and "that was an irresponsibility."
The one-hour long news conference ended Francis' week-long trip to Asia. The Pope also said he has plans to visit the Central African Republic, Uganda, Ecuador, Bolivia and Paraguay later this year.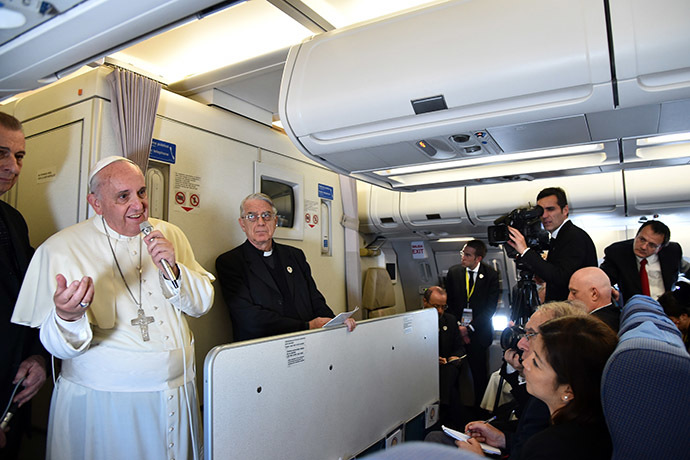 Pope blasts Western 'ideological colonization'
Aside from family planning, Pope Francis strongly condemned "ideological colonization" of developing countries with the introduction of Western family values, such as birth control and gay rights.
He lay some of the blame with wealthier countries and international organizations, who have indirectly been influencing the morals of younger people in poorer countries, adding that their involvement resembles 20th century Nazi and fascist propagandists.
"This is ideological colonization. They colonize people with ideas that try to change mentalities or structures," he said. "But this is not new. This was done by the dictatorships of the last century," referring to the Hitler Youth and Italian Balilla organization.
Francis referenced a story about an education minister, who offered loans for school construction in poor countries, in return that the schools' libraries carried a book on gender theory. The book threw traditional male and female roles into question.
Pope Francis has become known for his direct speech.
Just last week, he spoke out about the Paris attack targeting French satirical weekly Charlie Hebdo.
Francis stressed that there are limits to freedom of expression when religion is insulted, while at the same time, pointing out that killing in God's name is an "absurdity."
"One cannot provoke, one cannot insult other people's faith, one cannot make fun of faith," Francis said, adding that every religion "has its dignity."
READ MORE: Pope: When religion insulted, freedom of expression not boundless
You can share this story on social media: