Pope blasts Vatican bureaucrats for 'spiritual Alzheimer's', lists their 15 sins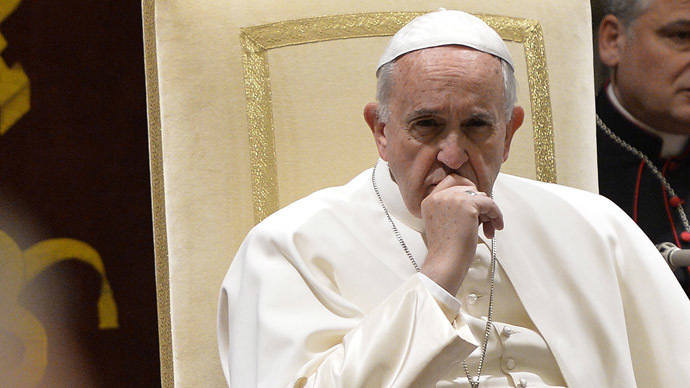 Pope Francis prepared rebukes instead of greetings for this year's Christmas meeting with the Curia. He has urged Vatican officials to stop feeling "superior to everyone," to give up on the "terrorism of gossip" and recover from "spiritual Alzheimer's."
The cardinals welcomed this year's Christmas address from their leader –a list of 15 "Ailments of the Curia" – with tepid applause and few smiles, AP reported.

One of the sins from the list was the "disease" of feeling "immortal," or "essential."

"Sometimes, [Officials of the Curia] feel themselves 'lords of the manor' [padroni in Italian] – superior to everyone and everything," Pope Francis said in his annual Christmas greeting, according to Vatican Radio.

The Pope also said he sees no reason for those in power in the Vatican to wear a "funeral face" all day long, whereas they're supposed to be joyful worshipers of God.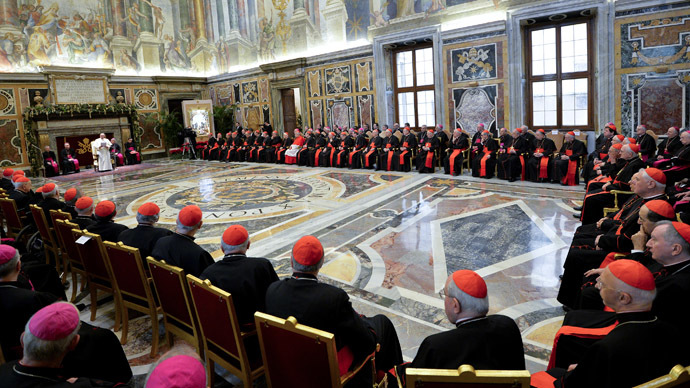 The Pope lashed out at those trying to gain more power at all costs, including by defaming or discrediting others publicly. He warned against the "terrorism of gossip" which can "kill the reputation of our colleagues and brothers in cold blood."

The Pope also compared gossiping to "satanic assassination" of other people's good names.

Francis, the first non-European pope in 1,300 years, has criticized the Italian-dominated Vatican bureaucracy before and is resolved on reforming the institution.

"The Curia needs to change, to improve ... a Curia that does not criticize itself, that does not bring itself up to date, that does not try to improve, is a sick body," he said, Reuters reported.

The greeting comes at a tense time for the Roman Curia, the central governing body of the Holy See which oversees the 1.2-billion strong Catholic Church. Pope Francis is reportedly drawing up plans to revamp the whole bureaucratic structure as well as finances, merging offices to make them more efficient, transparent and responsive.
You can share this story on social media: