HRW urges Bahraini opposition chief's release from unjustified detention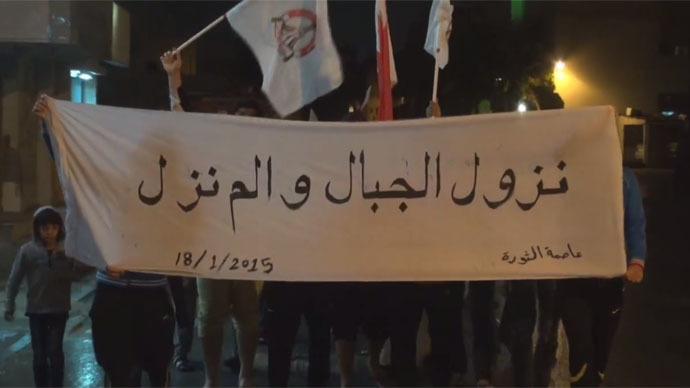 As protesters in Bahrain continue their daily peaceful marches pushing the government to release the leader of Al-Wefaq opposition party, Sheikh Ali Salman, Human Rights Watch (HRW) has joined the call and criticized the West for its inaction.
Sunday's rally follows a plea by Salman issued from prison, calling on his supporters to speak out against the Al-Khalifa regime. In his message, the 49-year-old cleric stressed that protests must remain peaceful. Salman has been kept behind bars since his arrest on December 28. Bahrain's public prosecutor has extended his detention for an unlimited period.
Prosecutors claim that Salman confessed to contacting foreign agents, some of whom had "expressed readiness to interfere" in Bahrain's internal affairs.
Meanwhile, Human Rights Watch has urged the international community to pressure Bahrain to release detained activists, including Salman, or justify their detention.
"When it comes to punishing peaceful critics of the government or ruling family, Bahrain is a serial offender," said Joe Stork, HRW's deputy Middle East and North Africa director.
"Bahrain's allies in London, Paris, and elsewhere have largely stayed silent as Bahrain has filled its jails with the people who hold the key to the political solution the (United Kingdom) UK and (United States) US claim to support," Stork said.
Salman's arrest "seems calculated to send a message to Bahrainis and the world that political reconciliation and respect for fundamental rights is completely off the table," said Stork, claiming that Bahrain has so far "failed" to release any evidence against the opposition leader justifying his detention.
#Bahrain: Prodemocracy protesters continue rallying in solidarity with the prisoners of conscience #FreeSheikhAlipic.twitter.com/cwjECCzOmX

— AlwefaqEN (@AlWefaqEN) January 18, 2015
Bahrain, ruled by King Hamad, was rocked by protests in 2011 by the country's majority Shiite Muslim population, calling for more freedoms in the Sunni-ruled country. Although the government, backed by Saudi Arabia, managed to suppress the protests very quickly, clashes between security forces and protesters still occur on a weekly basis.
#Bahrain ,Sar :A solidarity rally with prisoners of conscience despite rainy weather #FreeSheikhAlipic.twitter.com/33sk7WMMDh

— AlwefaqEN (@AlWefaqEN) January 18, 2015
You can share this story on social media: