Laid to waste: Drone footage shows devastation at Donetsk airport (VIDEO)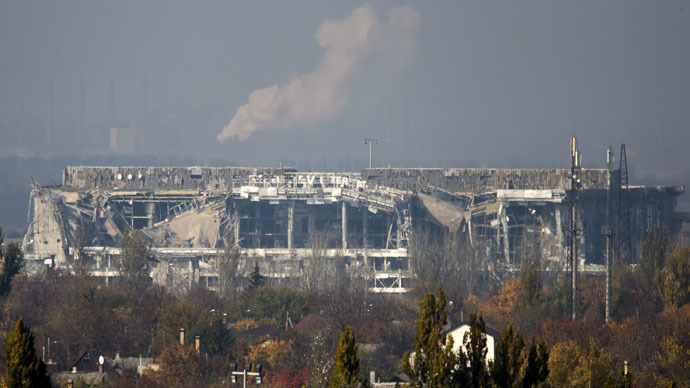 A landscape of shell holes, burnt plane carcasses, and terminals nearly razed to the ground. Drone footage has revealed the devastation at Donetsk International Airport, following months of fighting between the Ukrainian military and local militia.
The drone footage was uploaded online by Army SOS, a volunteer organization which provides support to the Ukrainian army.
On Sunday, fighting at the strategic Donetsk airport. "...Self-defense forces successfully repelled all six attacks by Ukrainian armored vehicle columns, performed with massive artillery support," Aleksandr Zakharchenko, head of the Donetsk People's Republic, said.

READ MORE: Ukraine army targeted Gorlovka with 500kg air bombs – Donetsk militia leader
Rebels claim they established full control of the Donetsk airport on Friday as they dislodged Ukrainian troops from the new terminal.

READ MORE: E. Ukrainian rebels say they now control Donetsk airport
The venue saw large-scale battles from May to late September, leading to the deaths of over 70 people.
As a result, the international airport – which used to handle some five million passengers annually – is now lying in ruins.
READ MORE: Apocalyptic Donetsk airport video reveals aftermath of E. Ukraine standoff
The Ukrainian military launched an operation in the country's southeast last April, after the Donetsk and Lugansk regions refused to recognized the new, coup-imposed authorities in Kiev.
The death toll in the Ukraine conflict has exceeded 4,700 people. Over 10,000 have been injured, according to UN estimations.
You can share this story on social media: