Tear gas, sound bombs: Clashes in Sao Paulo as 1,000s protest bus fare hike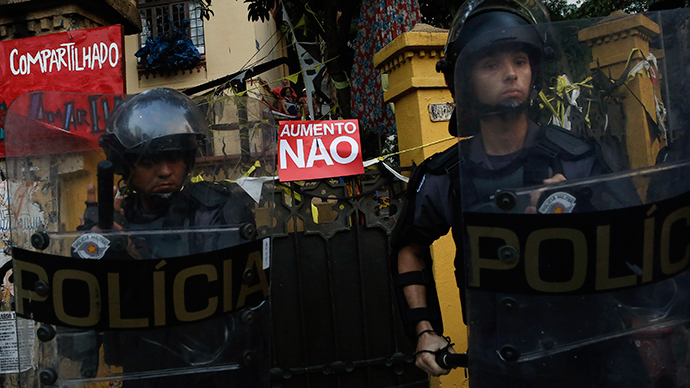 Police used tear gas and sound bombs to disperse thousands of people protesting against hikes in bus fare price in Brazil's biggest city, Sao Paulo.
The protesters gathered for a rally after the authorities increased bus fares from 3 reals ($1.14) to 3.50 reals ($1.34). Carrying banners reading, "No to fare hikes" the demonstrators called for fares to be lowered or eliminated altogether. They also demanded free student fares.
According to organizers, the rally attracted about 20,000 people, while police put the numbers at 3,000. At least 1,000 officers were policing the demonstration.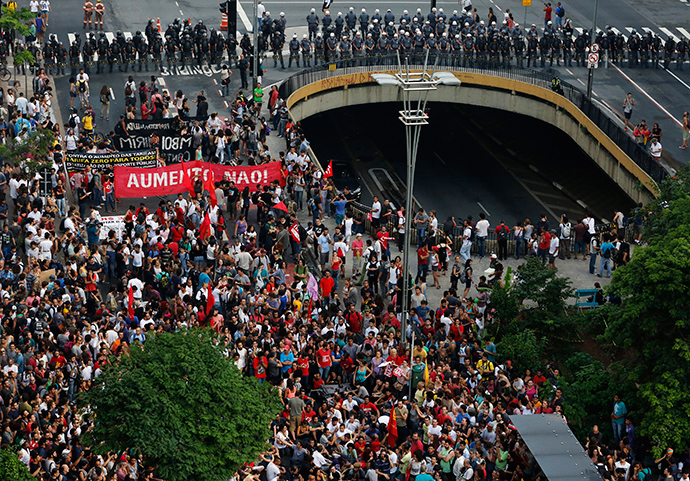 The rally turned violent after the protesters changed their authorized route and police arrested one member of anarchist Black Bloc group, AFP reported. The group's members were standing in front of the crowd of protesters.
According to Reuters, protesters started throwing fireworks at officers outside Sao Paulo's city hall, after which the police resorted to tear gas. Some of the protesters blame the police for provoking the clashes.
"It went as usual: the people demonstrated peacefully and the police throw gas," Isabella, a 22-year-old law student, told AFP.
The demonstration was organized by Free Pass movement (also called Free Fare Movement (MPL)), a Brazilian social organization that stands for the adoption of free fares in mass transit. The group initiated many protests in the country in 2013.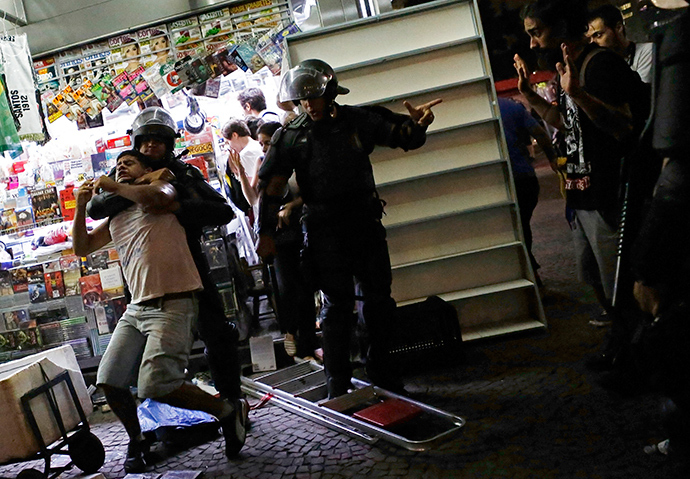 "The rising price of transport is inconsistent with life conditions in people's daily lives in Brazil and is more in response to private interests' wishes," Joseph Reichmann, a student, said.
READ MORE: Over 30 arrests as Sao Paulo erupts in protest over bus fare price (PHOTOS, VIDEO)
It was the second rally against the bus fare hike imposed in early January. The first one, which was also organized by the Free Fare Movement, took place just a week ago. The rally turned violent as shops were looted and objects thrown, with riot police using tear gas and rubber bullets to disperse the rioters.
#Brazil Police tear gas in Sao Paulo protest against raising transport cost pic.twitter.com/dauQnnbfL4

— Herbert - Somos 99% (@HerbertClaros) January 16, 2015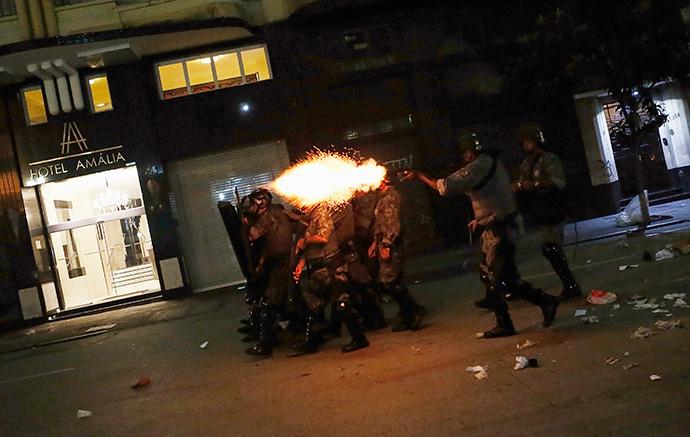 The increase in bus fares is a sensitive issue for many in Brazil. Last time the authorities considered the measures was in June 2013, when a price rise of R$0.20 (US$0.07) to R$3.20 (US$0.37) was reversed due to widespread public opposition.
A #SaoPaulo la polizia militare attacca il corteo #ContraTarifa#PasseLivre, scontri in corso. p/v @thiagodaraujopic.twitter.com/EhTHOfgJYj

— NoJusticeNoPeace (@anubidal) January 16, 2015
The protests in Brazil, which is Latin America's biggest economy, come amid marked economic slowdown and high inflation.
Although public transport fares are not regulated by the central government, President Dilma Rousseff's administration is facing increasing pressure to do so, as the country expects her to reduce prices for key goods and services affecting poor people.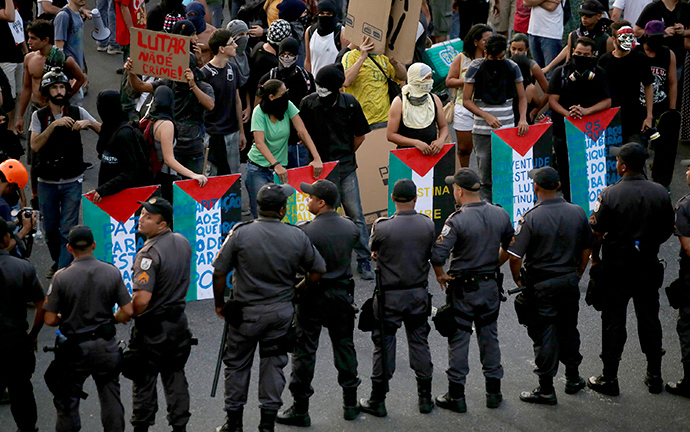 You can share this story on social media: