Charlie Hebdo founder says murdered editor 'overdid' provocative cartoons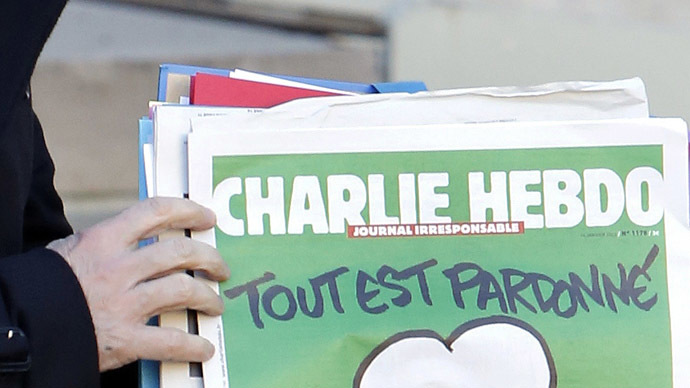 A founder of Charlie Hebdo has condemned the murdered editor Stephane Charbonnier of "dragging the team" to their deaths by overdoing the satirical magazine's provocative cartoons.
Henri Roussel, 80, who participated in 1970 in the creation of the first issue of Charlie Hebdo (then called 'Hara-Kiri-Hebdo'), addressed Charbonnier posthumously with the words, "I really hold it against you," in a column in the left-wing magazine Nouvel Obs.
Roussel, who writes under the pen name Delfeil de Ton, said that Charbonnier was an "amazing lad," but also an obstinate "blockhead."
"What made him feel the need to drag the team into overdoing it?" he asked, referring to the 2011 Mohammed cartoons.
The cover of the magazine in 2011 showed a drawing of the Prophet Mohammed, along with the words, "100 lashes of the whip if you don't die laughing!" under a banner saying, "Charia Hebdo."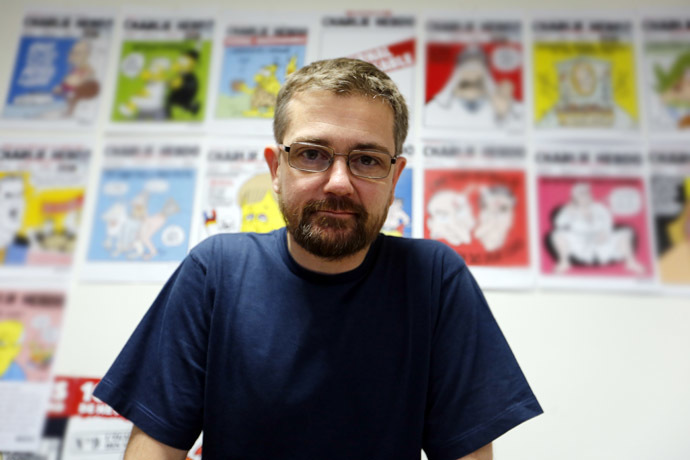 READ MORE: Post-attack Charlie Hebdo issue raises €10mn
Shortly afterward, the magazine's office was firebombed by unidentified arsonists.
"I believe that we are fools who took an unnecessary risk," Roussel wrote. "That's it. We think we are invulnerable. For years, decades even, it was a provocation and then one day the provocation turns against us."
"Charb did it again a year later, in September 2012," Roussel added, using Charbonnier's nickname.
"I have refused to speak to the TV and radio, to everyone. I kept my message for Obs, and I am not prepared to open this subject again," Le Monde quoted Roussel as saying.
READ MORE: Paris attacks aftermath - Europe on high alert amid terror threats
Roussel's column in Nouvel Obs triggered outrage from Richard Malka, Charlie Hebdo's lawyer for the past two decades. Malka wrote to Mathieu Pigasse, one of the owners of Nouvel Obs and Le Monde.
"Charb has not yet even been buried and Obs finds nothing better to do that to publish a polemical and venomous piece on him," Malka wrote. "The other day, the editor of Nouvel Obs, Matthieu Croissandeau, couldn't shed enough tears to say he would continue the fight. I didn't know he meant it this way. I refuse to allow myself to be invaded by bad thoughts, but my disappointment is immense."
READ MORE: Tons of Charlie Hebdo merchandise flood internet as new edition sells within hours
In response, Matthieu Croissandeau, Nouvel Obs' editor, said that the publication "received this text" and following a debate, he decided to publish it.
"It would have seemed to me worrisome to have censored his voice, even if it is discordant. Particularly as this is the voice of one of the pioneers of the gang," Croissandeau said.
READ MORE: 'Act of war': New Charlie Hebdo edition triggers Muslims' anger, threats
Le Monde readers spoke out about Roussel's column, with one saying that Malka was "pathetic" as he was defending an act that insulted millions of Muslims, while forbidding a founder of Charlie Hebdo to voice his opinion.
Another, however, said of Roussel's words: "It's ugly to get old."
Roussel has also criticized previous editors of Charlie Hebdo, accusing them of Zionism and Islamophobia.
Philippe Val, a previous Charlie Hebdo editor, fired cartoonist Maurice Sine over a drawing that depicted the marriage of Nicolas Sarkozy's son, Jean, to a Jewish retailing heiress. Val said the drawing was anti-Semitic.
READ MORE: Russell Brand compares 'insidious' Fox News to Charlie Hebdo terrorists
Roussel's column followed the publication of 3 million copies of the so-called "survivors' issue" of Charlie Hebdo, the first edition since the January 7 attack. The issue sold out within an hour, and distributors announced that an additional 2 million copies would be printed.
You can share this story on social media: