​Fasting in space? American food products for ISS stuck at customs due to Russian embargo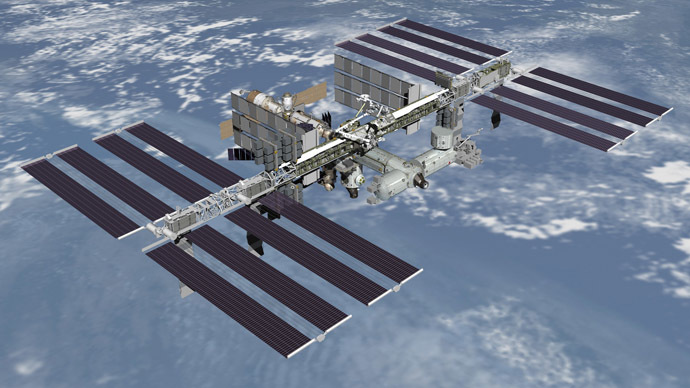 A cargo of American food supplies for the ISS has been stalled at Russian customs, but officials say the delay is not critical and the problem will be resolved soon, while there are food reserves aboard the ISS.
"A cargo of food items, destined for shipping to the ISS, so far has indeed failed to be custom-cleared," Irina Romanova, a spokeswoman for the Russian space firm Energia, told Tass news agency on Thursday. "But it won't create any problems for astronauts' nutrition – firstly, there is a good supply of food reserves aboard the ISS, and, secondly, we are sure that the situation will be resolved in the nearest future."
Russian Progress M-25M cargo rocket blasts off fo…: http://t.co/v4ZAjwMibc#Soyuz#ISSpic.twitter.com/p0nGXQLrit

— kalikrome (@Kalikrome) October 29, 2014
A shipment of food items is set to be sent on February 17 to the International Space Station (ISS) on board a cargo spacecraft, Progress M-26M, along with other supplies, such as water and oxygen.
"All the necessary requests and appeals to make an exception to this cargo have been made, but officials have not responded yet," a Russian space industry source told Interfax.
READ MORE: 'No borders in space': Russian cosmonaut, US astronaut get ready for longest ISS flight
A spokesperson for the Russian Academy of Sciences' Institute of Medical and Biological Problems, responsible for providing food supplies for the Russian ISS crew, told Interfax: "The food package that is to be sent to our cosmonauts on February 17 … is fully stocked and ready for the shipment to the launch area. If required, we are ready to share the products with American colleagues."
(IT)Anche io festeggio il #TerraMadreDay a bordo della #ISS con gli amici di @slow_food_italyhttps://t.co/NX5x9Xg4hSpic.twitter.com/5pGjcfM9Dx

— Sam Cristoforetti (@AstroSamantha) December 10, 2014
But the director of NASA's manned space flights programs in Russia, Sean Fuller, told Tass: "The food items were produced in the USA and are destined for the crew of the Russian sector."
Fuller said that in December the US dispatched a cargo of meals ordered by Russian cosmonauts. "We have sent this supply, and Roscosmos [Russian Federal Space Agency] is supposed to have got it," he said.
READ MORE: ISS crew locks down inside Russian sector after cooling system glitch
On Wednesday, the US sector of the ISS faced a threat of a possible toxic leak of ammonia, which later turned out to be a false alarm. The American astronauts had to move to the Russian sector for a few hours.
Currently, there are six researchers on board the International Space Station from Expeditions 42 and 43: Russians Aleksandr Samokutyaev, Elena Serova and Anton Shkaplerov, Americans Barry Wilmore and Terry Virts, and Italian Samantha Cristoforetti.
READ MORE: Russia bans agricultural products from EU, USA, Australia, Norway, Canada
In August, Russia reacted to the Western sanctions with a year-long import ban on many food products, such as beef, pork, poultry meat, fish, cheese, milk, vegetables and fruit, from the US, EU nations and various other countries.
You can share this story on social media: