'No borders in space': Russian cosmonaut, US astronaut get ready for longest ISS flight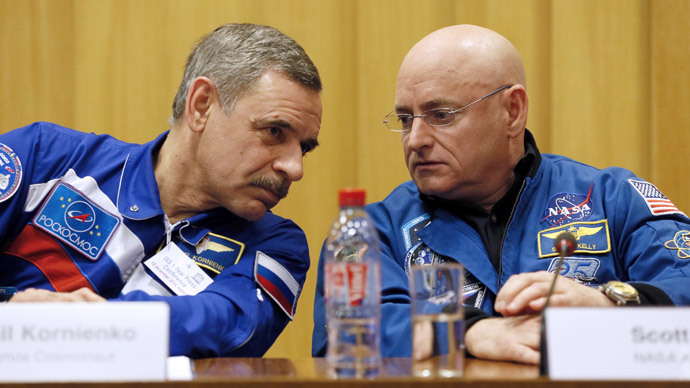 While tensions between the US and Russia are high, an astronaut and a cosmonaut are "great friends, colleagues and professionals," the pair said ahead of their joint year-long ISS flight in preparation for a manned Mars mission.
NASA's Scott Kelly and Roscosmos' Mikhail Kornienko are to stay on the final frontier for a year in 2015.
"We rely on each other implicitly for our lives," 50-year-old Kelly said at a press conference in Paris to showcase the mission.
"Any political issues that exist between our countries is something we don't even discuss. We're great friends, we're colleagues, we're professionals. That's the way it has to be," he added.
Kornienko, 54, stressed that "there are no borders in space between us."
"It's a great example of... working together, especially for politics on the ground," he said.
"We are very good friends and we're going to better friends after a year in space -- at least that's what I'm hoping for."
Their trip is a test for a manned Mars journey in the 2030s that is set to take about three years. Kelly noted that he hopes a manned trip to Mars "will happen in my lifetime."
Kornienko added that he thinks it might happen earlier, stating that he is "optimistic" and sure that many nations would have to "join powers" to carry out the mission.
"If we're ever going to go to Mars someday, the International Space Station is really a great platform to learn much about having people live and work in space for longer durations," Kelly also said.
"It's close to the Earth and it's a great orbiting facility. This one-year flight is one of many stepping stones towards leaving low-Earth orbit again," he added.
The total number of experiments that will be conducted during the trip is "about 58," Kornienko said.
"Those will be physical and chemical processes in the space conditions, exploration of the Earth from space, studies of the human in space, biotechnologies," he told TASS.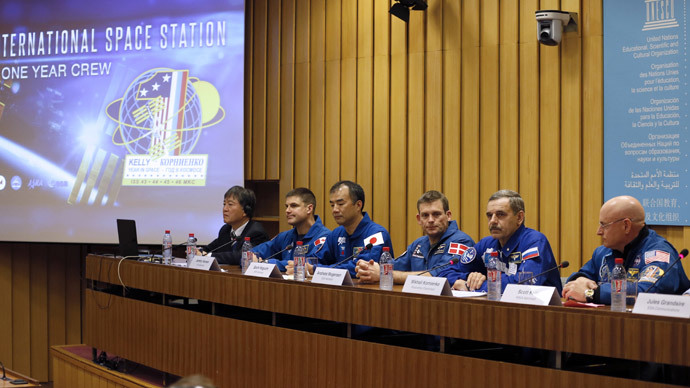 Long-term space journeys can be quite dangerous for people's health, both physical and mental.
The issues that the crew might encounter are bone-density, muscle deterioration, DNA damage from space radiation, visual impairment, as well as psychological stress, AFP reported.
Kornienko detailed his family's stress, too: when he announced to his wife he would leave her for a year to go to space, she wept.
"But now she supports me, my family support me," he added, saying that he has just become a grandfather.
Kornienko and Kelly are veterans of space, with the cosmonaut spending 176 days in orbit, and the US astronaut, an ex-space shuttle pilot, 180 days.
Earlier, the longest trip to space was carried out by cosmonaut Valery Polyakov, who spent 437 days on the Russian space station Mir in 1994-1995.
Roscosmos is currently envisaging 14 long-term space journeys, and NASA 19. America currently depends on Russia to send astronauts to space after the shutdown of the US space shuttle program over three years ago. It costs about $70 million to put a US astronaut in space.
You can share this story on social media: