Israeli Opera refuses to pay tribute to Paris victims, French conductor protests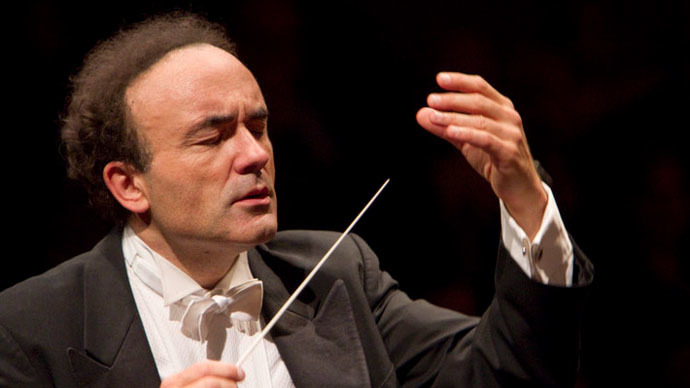 A French conductor, Frederic Chaslin, who has performed with Israeli orchestras for a long time, refused to participate in a performance after Israeli Opera denied his request for a short tribute to victims of the Paris terror attacks last week.
Chaslin wanted Puccini's La Rondine performance on Saturday to be preceded by the Israeli national anthem, Hatikva, and a few words in memory of those killed.
Four Jewish hostages at a kosher store were among those who lost their lives during three days of mayhem in Paris following the attack on French satirical weekly Charlie Hebdo.
READ MORE: 4 hostages, 3 gunmen killed as Charlie Hebdo hunt ends in France
Israeli Opera refused the conductor's request.
"I was refused," Chaslin said, according to The Times of Israel. "'It would upset our audience,' 'it is against the management's policies.' What management? What policy? Where am I? In a country supposed to be the sanctuary for all Jewish people in the world? Has the 'audience' of this country lost their souls?"
Israeli Opera in Tel Aviv-Yaffo said in a statement that although it condemned the Paris attacks, it believed it was wrong to highlight the issue in a theater.
"Israeli Opera is pained by the tragedy and its aftermath and its heart is with the French nation and Jewish community," the statement says.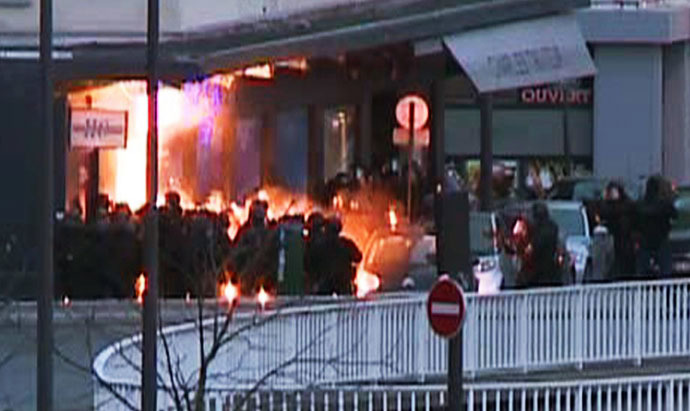 "For the 30 years that the opera has been in operation, it has insisted on maintaining its routine even on the painful days of dozens of terror attacks and during wars. This is the way of the opera — not to allow terror to win and disturb the routine of our lives."
Chaslin disagreed and refused to conduct the opera on Saturday.
"We artists are not just entertainers," he told The Jerusalem Post. "Bringing two thousand people together in one hall gives an opportunity to commemorate the fallen and if the Israeli Opera can't find 30 seconds for this, it's a shame."
However, the conductor will still commemorate the Paris attacks' victims.
"My orchestra, the Jerusalem Symphony... will dedicate its next concert on Wednesday to all the "Charlies" and we are performing in 15 days in Paris so we will be in Charlie town," he said on Facebook.
The post has been welcomed with "bravos" in comments. Social media users have mostly been on Chaslin's side.
@chaslin appreciate your efforts at the Tel Aviv Opera. Their refusal is shocking and bizarre.

— SteelTownRunner (@SteelTownRunner) January 11, 2015
@chaslin JeSuisChaslin! Felicitations maestro-stand up for what you believe is right!!

— Wendy Garfield (@OperaforDogs) January 11, 2015
Israeli PM Benjamin Netanyahu marched together with other world leaders on Sunday in solidarity with the 17 victims of the Paris attacks.
He earlier reacted to the deadly kosher store attack by urging all Jews from Europe to immigrate to the state of Israel to escape the "rising tide of anti-Semitism." He called on lawmakers to amend legislation in order to make immigration easier.
READ MORE: Netanyahu to French Jews: 'Come home to Israel from terrible European anti-Semitism'
Families of the four French Jews killed in the Islamist attack in Paris have decided to bury their dead in Israel. Netanyahu has welcomed the decision.
The bodies of Yoav Hattab, 22, Yohan Cohen, 22, Philippe Braham, 45, and François-Michel Saada, 55, will be taken from the forensic institute in Paris on Monday and flown to Israel, a Jewish community source told AFP in Paris.
The funerals will start at around noon (10:00 GMT) at Jerusalem's Givat Shaul cemetery, according to the prime pinister's Office, as cited by The Haaretz.
You can share this story on social media: