10 yo suicide bomber blows up at crowded market in Nigeria, kills more than 15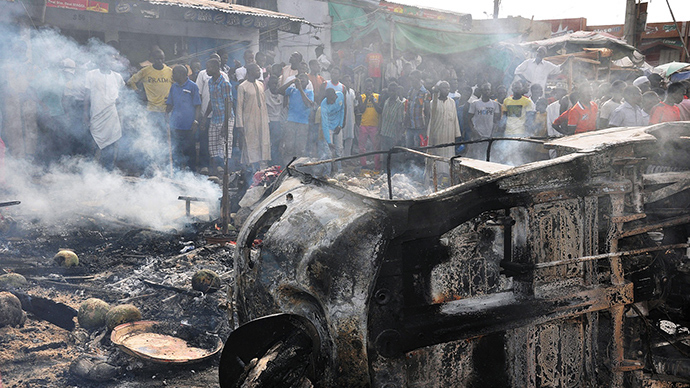 A suicide bomber as young as 10 years old blew herself up at a market in Nigeria, killing between 16 and 20 people, according to different estimates. More than 20 people sustained wounds in the attack, which no group has claimed responsibility for so far.
Reports vary on how many people died in the attack. According to Reuters, at least 16 have been killed and 27 injured. At the same time, AFP has cited Borno State police spokesman Gideon Jubrin, who said there were 20 deaths, including the suicide bomber, and another 18 wounded.
According to a Red Cross official, who spoke to the news agency on condition of anonymity, "many people sustained life-threatening injuries."
The explosion happened at a Market in Maiduguri, the capital of Borno state at about 12:15 pm local time (11:15 GMT) when the market was full of customers and salesmen. Witnesses say the bomb was remotely controlled.
The girl was stopped at the entrance as the metal detector showed she had something strapped to her body.
"The explosive devices were wrapped around her body and the girl looked no more than 10 years old," a police source told Reuters.
The explosive devise detonated while the girl was being searched.
"I doubt much if she actually knew what was strapped to her body," Civilian vigilante Ashiru Mustapha has been cited by AFP as saying. "But sadly, the explosion went off before she was isolated," he added.
"I am pretty sure the bomb was remotely controlled," one of the witnesses has also told the news agency.
READ MORE: At least 120 dead in Nigeria mosque suicide bombing
No organization has taken responsibility for the attack, however, Boko Haram militants who control the area bordering Maiduguri are suspected as they are known for using female suicide bombers. An incident in June 2014 in Gombe was followed by a series of deadly attacks. However, this is the first case of using a child as a suicide bomber.
READ MORE: '2,000 killed in Nigeria': Boko Haram's latest attack deadliest in history, Amnesty says
The market was a terrorist target twice last year. Maiduguri is under control of the government and is often attacked by Boko Haram militants whose aim is establishing a Muslim caliphate based on Sharia law.
Over 10,000 people died in clashes with the militants and in terrorist attacks in Nigeria in 2014.
The recent attack in the town of Baga could be the deadliest attack by Boko Haram since the extremist group surfaced in 2009 with some reports putting the number of fatalities as high as 2,000.
You can share this story on social media: