At least 120 dead in Nigeria mosque suicide bombing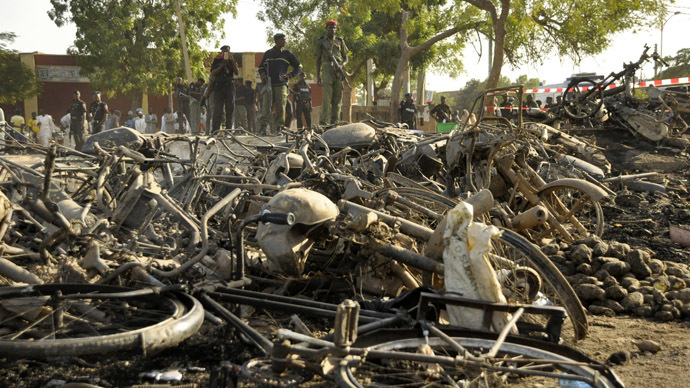 Suicide bombers followed up by gunmen have killed at least 120 people and wounded 270 others in a mosque, which was the place of worship of Nigeria's top anti-Boko Haram cleric.
READ MORE: Boko Haram denies truce with govt, says kidnapped girls 'married off'
The bombers and gunmen attacked the Grand Mosque in Kano during Friday prayers. A rescue official provided AFP with the number of those killed and injured.

Emmanuel Ojukwu, a national police spokesman, told AFP that the suicide bombers blew themselves up in quick succession and gunmen then "opened fire on those who were trying to escape."

There was no information on whether the bombers were male or female. It comes after a number of attacks by women suicide bombers in recent months.

Aminu Abdullahi – one of the worshipers – and Hajara Tukur, a local resident, said there were two explosions followed by a third blast on a nearby road.

In one hospital, 126 people were being treated for their injuries, and a senior rescue official counted 64 bodies.

"Those figures are going to climb," he said.

The Grand Mosque is next to the palace of the Emir of Kano, Muhammad Sanusi, who is Nigeria's second highest Muslim cleric after the Sultan of Sokoto. Just last week, he urged civilians of northern Nigeria to take up arms against Boko Haram.
The emir is a very influential figure in Nigeria, which is home to more than 80 million Muslims. The attack on Kano – Nigeria's second city and an ancient place of Islamic learning – may further inflame tensions. While attacks in rural areas have been common for some time, the growing number of attacks in big cities is having a much more serious impact.
Sanusi became emir earlier this year after running the Central Bank of Nigeria, although he was suspended from his post there after speaking out against government fraud and corruption.

The emir was not in Nigeria during the attack, and is said to have arrived in Saudi Arabia from Paris on Thursday night.
Boko Haram has been waging jihad for a hardline Islamic state in the north of the country since 2009. More than 2,000 people have died as a result.
READ MORE: Boko Haram creates 'Islamic Caliphate' in Nigerian town
You can share this story on social media: