French municipal-websites hacked, replaced with ISIS flag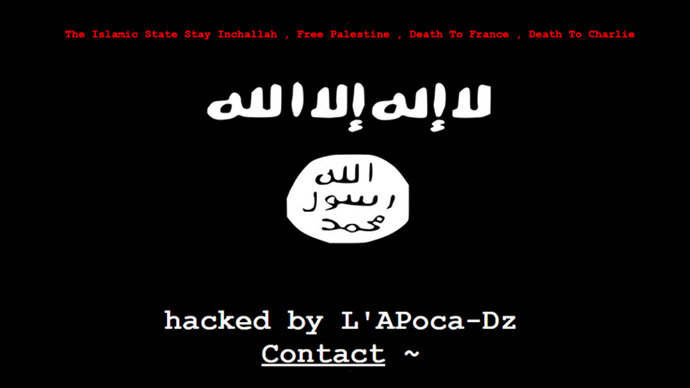 So-called Islamic State flags have appeared on the websites of several municipalities near Paris whose homepages were hacked. The hacks come amidst an intense manhunt to capture two suspects believed to have committed the Charlie Hebdo office massacre.
READ MORE: Charlie Hebdo massacre suspects on US no-fly list 'for years,' trained with Al-Qaeda in Yemen – reports
The attacks, apparently carried out by a group identified as L'Apoca-Dz, occurred shortly before midnight on Thursday.
The websites of several communes in the Paris metropolitan area, including Goussainville, Ezanville and Jouy-le-Moutier, were targeted.
The afflicted sites displayed an image of the IS flag with a nasheed or Islamic vocal chant playing in the background. The group, further claiming to speak for IS, denounced both France and Charlie Hebdo in a message written on the homepages of the hacked sites.
Celui de la ville d'Ezanville également #CharlieHebdopic.twitter.com/89L97g0H0X

— Breaking 3.0 (@Breaking3zero) January 8, 2015
The websites have since been restored.
Despite employing the IS flag, L'Apoca-Dz doesn't appear to have any actual affiliation to the militant group. A quick search has showed a variety of sites hacked by a group flying under the same banner, with no apparent political or geographical consistency.
READ MORE: Charlie Hebdo shooting aftermath LIVE UPDATES
In one hack targeting a Dutch-based firm, the group posted an image of a Guy Fawkes mask, which is associated with the Hacker collective Anonymous.
The group listed a group of enemies, including France, the USA and Israel, with a statement demanding freedom for Palestine.
The hackers further wrote "Power of Algeria" and "Algerian to the core."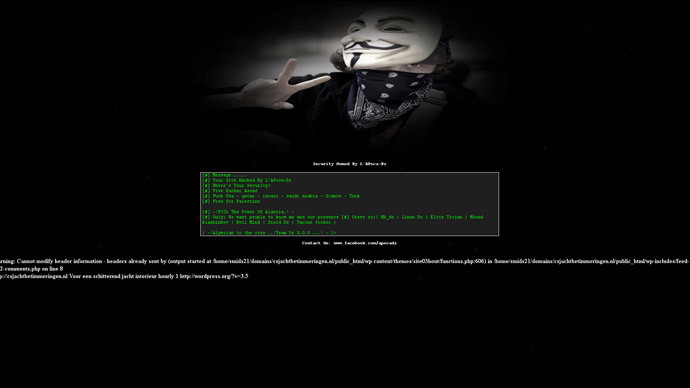 READ MORE: Hostage drama northeast of Paris as police reportedly corner shooting suspects
The attacks serve to highlight tensions in France following the worst terror attack in a generation. An intense manhunt involving some 90,000 security forces is currently underway for Cherif and Said Kouachi, the brothers accused of killing 12 people in Wednesday's attack on the satirical weekly Charlie Hebdo. The magazine has repeatedly lampooned religious and political figures, including the Prophet Mohammed.
The brothers, according to preliminary reports, appear to be connected to the Yemen-based Al-Qaeda in the Arabian Peninsula, and not IS.
According to French officials, the Kouachi brothers said "they were ready to die as martyrs."
You can share this story on social media: