Police officer shot dead outside Paris, suspect at large – police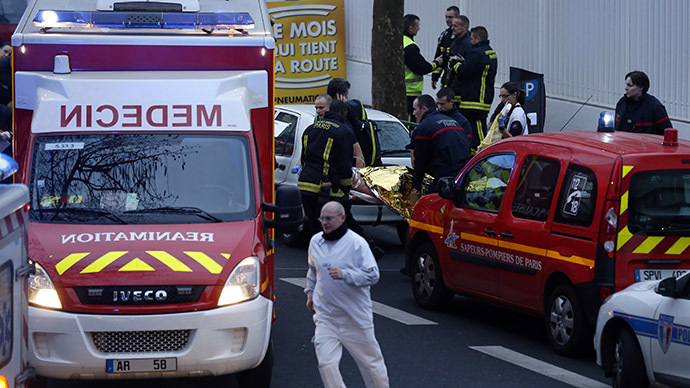 A police officer has been shot dead and a city employee critically injured following the shooting on the outskirts of Paris, according to local media. The incident follows police raids after the attack on the satirical Charlie Hebdo newspaper in Paris.
One man opened fire at two police officers, seriously injuring one, near La porte de Chatillon, Montrouge commune,south of Paris, police confirmed. Also a street sweeper has been critically wounded in the attack, reported AP.
According to RTL, the shooter injured two police officers.
Fusillade porte de Châtillon: un suspect se serait enfui en clio pic.twitter.com/HzO3p3L1Mj

— Laurence PIEAU (@LaurencePieau) January 8, 2015
The incident happened at about 8:19am local time when two law enforcers attempted to intervene in an ordinary road accident, French Radio RTL reported.
BREAKING: Swat team just arrived in #Montrouge, the location of the shooting this morning. @Ruptly's crew is there.

— Ruptly Newsroom (@RuptlyNewsroom) January 8, 2015
A man suddenly opened fire on the officers. His motives are as yet unknown.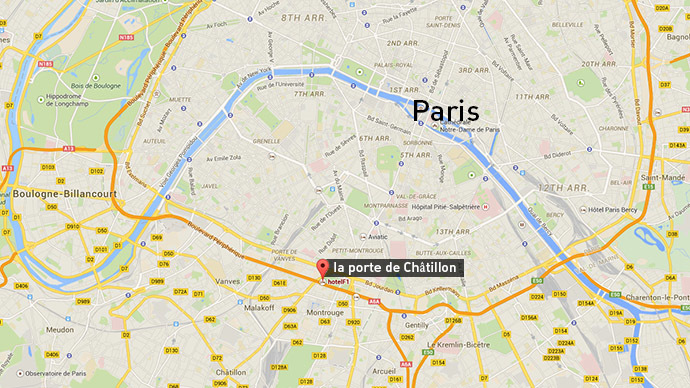 It wasn't immediately clear if the shooting was related to the attack on the Charlie Hebdo magazine.
READ MORE: France manhunt: Police raid homes, arrest several suspects after Charlie Hebdo massacre
The suspect is reportedly of African origin and doesn't match the description of the Kouachi brothers, who police are hunting in connection with the Charlie Hebdo attack.
Avenue Pierre brossolette tout est bouclé #portedechatillonpic.twitter.com/vwifaaz7tD

— Oihana Gabriel (@OihanaGabriel) January 8, 2015
. @ALaVieALAmour En ce moment Porte de Châtillon.Coups de feu à l'arme automatique.1 policier touché #JeSuisCharliepic.twitter.com/nCJvilDoxh

— CharlieLibertéPresse (@ALaVieALAmour) January 8, 2015
#Fusillade à la porte de #Châtillon. Le périmètre est bouclé. #parispic.twitter.com/0LcAtzPGav

— Camila Campusano (@c_vcampusano) January 8, 2015
After the shooting France's Interior Minister Bernard Cazeneuve reportedly left the crisis meeting at the Elysee Palace to visit the site of the shooting.
French newspapers say the suspect was arrested. However, Cazeneuve later denied the reports.
The suspect's vehicle was reportedly found near Arcueil commune in the southern suburbs of Paris, reported RTL.
Later on Thursday, an armed man was sighted in Paris' La Defense business district, according to reports. It is unknown if he is the same individual suspected in the La porte de Chatillon attack.
Les démineurs en cours d'intervention.Le suspect de la fusillade de ce matin se serait échappé sur Arcueil.#fusilladepic.twitter.com/Lsekbbs9e1

— Mathilde Cusin (@MathildeCUSIN) January 8, 2015
Voiture du tirreur à #Montrouge#Chatillon . pic.twitter.com/YUw0V4FvRl

— ♕ Somany_Thingx ♕ (@Somany_Thingx) January 8, 2015
@acupoftim vient de poster une photo, la fusillade Porte de Chatillon a eu lieu devant son travail :-/ pic.twitter.com/Z5O9L6wYVt

— LesGambettesSauvages (@LesGambSauvages) January 8, 2015
Porte de Chatillon... Ces sirènes assourdissantes.. pic.twitter.com/NL1HxQAj9B

— Anne-Sophie Sibout (@AS_Sibout) January 8, 2015
Employees at La Defense, Europe's largest purpose-built business district, have been told not to leave their offices following reports of the gunman. Helicopters have been reported hovering in the area.
Les salariés de toutes les tours sont en bas de leur immeuble sous une pluie battante #ladefensepic.twitter.com/kbFukhnaV1

— JB Chastand (@jbchastand) January 8, 2015
The attack at the satirical Charlie Hebdo newspaper in Paris, which happened on Wednesday in the French capital, killed 10 journalists and two policemen. Eleven more people were wounded and four of them are in a serious condition.
READ MORE: Fatal shooting at Charlie Hebdo HQ in Paris LIVE UPDATES
According to the French PM "several [people] were held overnight" in connection with the incident.
You can share this story on social media: