ISIS says it has executed Iraqi govt infiltrators (GRAPHIC CONTENT)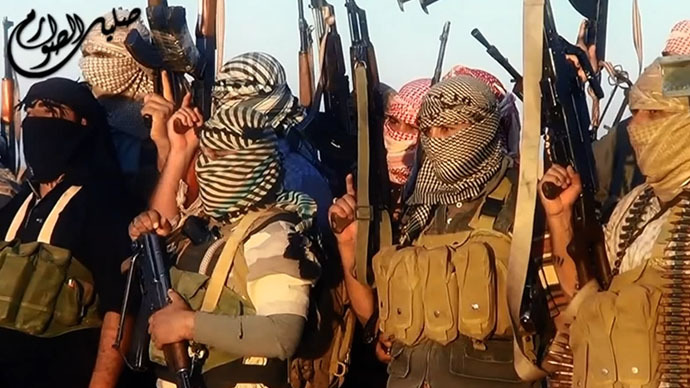 The Islamic State (IS, formerly ISIS/ISIL) has released pictures allegedly showing the execution of eight people. The militants say those killed were Iraqi police, who infiltrated IS to spy for the Iraqi government.
The pictures appear to be screenshots from a video and some of the victims were probably interviewed before their execution, as they can be seen wearing microphones.
READ MORE: ISIS executed nearly 2,000 people in Syria, mostly civilians, in 6 months – monitor
The images are entitled 'The Day of Judgment' and show eight handcuffed people in orange jumpsuits, described in captions as either police officers or "secret informants." Certain images are closeup portraits of the victims.
The leader of the group, accused of spying, is identified by the militants as Captain Hossam Salah Bnosh. He and the seven others allegedly joined the Islamic State to secretly collect data for the Iraqi government, according to reports by IS media, cited by Al-Alam news channel.
The information was reportedly passed on to the coalition forces, carrying out airstrikes against IS.
#الدولة_الإسلامية #ولاية_صلاح_الدين تصفية شبكة من المرتدين يعملون لصالح الحكومة الصفوية وكانوا قد تابوا ثم ارتدوا pic.twitter.com/6zYFkxTBCq

— صُـهَـيـب (@sohaiby1) January 5, 2015
One of those executed, Ahmad Basil Ramadan, a young bearded man, was specifically accused of providing the Iraqi authorities with information on the location of IS soldiers' houses.
The photos show the men, blindfolded and handcuffed, and being frogmarched to the place of their execution. They are seen kneeling in a row in front of armed men in black.
One picture shows seven of the victims on the ground, with blood running from their heads.
The pictures' authenticity cannot be independently verified. It's also not clear when they were taken.
Brutal videotaped executions have been IS's trademark and major intimidation tool.
The Islamic State, originally an Al-Qaeda offshoot, has been denounced by certain Al-Qaeda leaders for its brutality, particularly public beheadings.
READ MORE: 'Barbaric propaganda': Top Al-Qaeda commander denounces ISIS beheadings
The Islamic State, comprising around 80,000 militants and having large parts of Iraq and Syria under its control, is believed to have carried out thousands of executions last year.
In Syria alone, it executed 1,878 people, mostly civilians, according to a recent report by the British-based Syrian Observatory for Human Rights.
You can share this story on social media: