'Something wrong with Ukraine, EU': Czech leader condemns 'Nazi torchlight parade'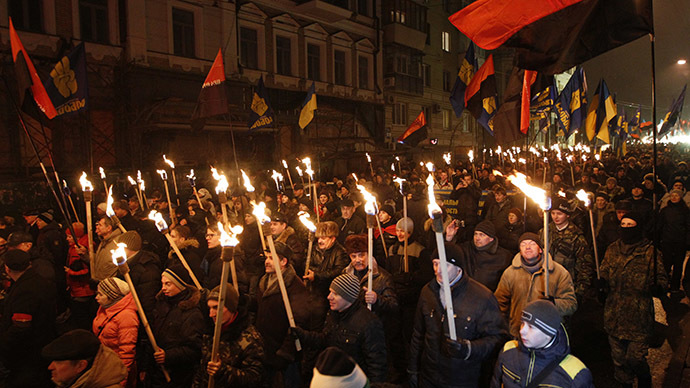 The chilling slogans and a flagrant demonstration of nationalist symbols during the neo-Nazi march in Kiev reminded the Czech President Milos Zeman of Hitler's Germany. He said something was "wrong" both with Ukraine and the EU which didn't condemn it.
Zeman was commenting on the appalling scenes, which showed thousands of Ukrainian nationalists holding a torchlight procession across the Ukrainian capital on Thursday to commemorate the 106th birthday of Stepan Bandera, a Nazi collaborator and the Ukraine nationalist movement's leader during World War II.
"There is something wrong with Ukraine," the Czech Republic's leadertold radio F1 on Sunday. "Yesterday evening I was browsing the Internet and discovered a video showing the demonstration on Kiev's Maidan on January 1."
"These demonstrators carried portraits of Stepan Bandera, which reminded me of Reinhard Heydrich," Zeman said referring to one of the main architects of the Holocaust and at the time a Reich-Protector of Czech Republic's territories.
"The parade itself was organized similar to Nazi torchlight parades, whereparticipants shouted the slogan: 'Death to the Poles, Jews and communists without mercy,"Zeman explained.
READ MORE: Russian journalists attacked, robbed at nationalist torchlight march in Kiev (VIDEO)
Bandera was the head of the Organization of Ukrainian Nationalists (OUN), which collaborated with Nazi Germany, and was involved in the ethnic cleansing of Poles, Jews and Russians.
"Glory to the nation! Death to enemies!","Ukraine belongs to Ukrainians" and "Bandera will return and restore order", were the repeated slogans during the neo-Nazi march. Some of the participants wore World War II Bandera's insurgent army uniforms while others paraded with red and black nationalist flags.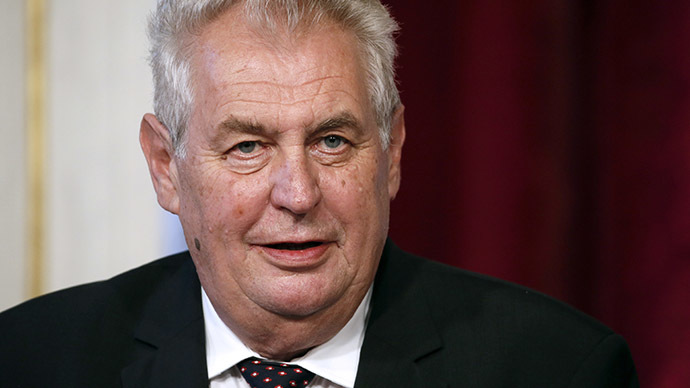 The Czech President said something is "wrong" not only with Ukraine, but also with the European Union, which did not protest or condemn this action.
"Don't forget that Bandera is considered a national hero in Ukraine, his image is hanging in the Maidan, his statue is in Lvov. In reality, he was a mass murderer," Zeman said last summer on Czech Television.
Czech President Milos Zeman: "While Stepan Bandera is seen in #Ukraine as a national hero, the fact remains that he was a mass murderer"

— Balkan news (@NewsBalkan) June 2, 2014
Russia too has on numerous occasions condemned the resurgence of neo-Nazi traditions in Ukraine and considers such displays of militant nationalism as means to fabricate history.
"Torch-lit marches in Ukraine demonstrate that it is continuing to move along the path of the Nazis!" Konstantin Dolgov, the foreign ministry's human rights envoy, said last week. "And this is in the center of civilized Europe!"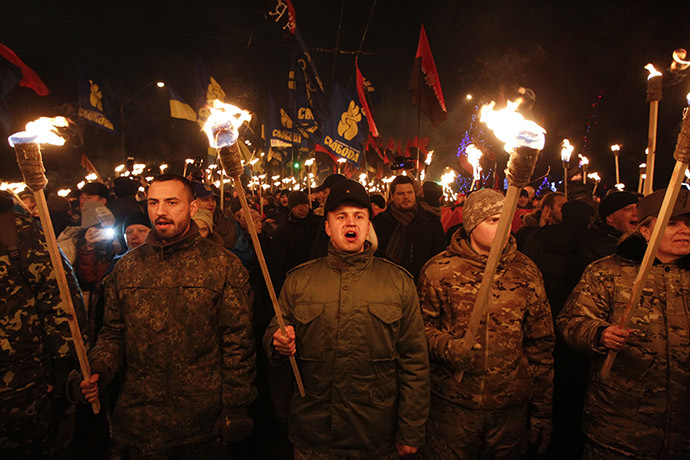 You can share this story on social media: