1000s rally in Hungary, accuse govt of drifting away from EU (PHOTOS, VIDEO)
Thousands of people have flooded on to the streets of Budapest to protest against the government of Prime Minister Viktor Orban. Protesters accused him of drifting away from the EU and strengthening ties with Russia.
The protesters carried banners, saying "Game Over" and "Delete Viktor [Orban]". According to AFP estimates, the demonstration gathered about 5,000 people in front of the Budapest opera house.
"We condemn the parties of the last 25 years... We cannot expect the state to think for us," one of the organizers of the demonstration, Zsolt Varady, said in a speech at the rally.
READ MORE:Hungary fuming after McCain calls PM Orban 'neo-fascist dictator'
People said they were concerned over the country's policy on centralization in education and public administration. They accused Orban's government of drawing Hungary further away from other European Union members.
"In all aspects of our lives, we fear the return of a centralized system similar to the one under communism, which my generation struggled against," said Eva Bari, a teacher.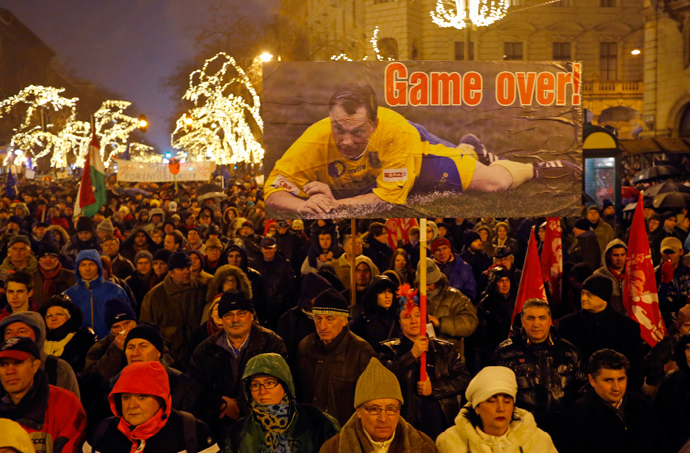 The activists also accused PM Orban of strengthening ties with Russia, as he has been a vocal opponent of sanctions against Moscow. Orban has argued that they hurt Europeans more than they hurt Moscow, and pledged to lobby for their abolition.
READ MORE:100,000+ rally in Hungary over internet tax despite govt concessions (PHOTO, VIDEO)
The Budapest protest organizers said they are calling another rally for February 1, when German Chancellor Angela Merkel visits Budapest.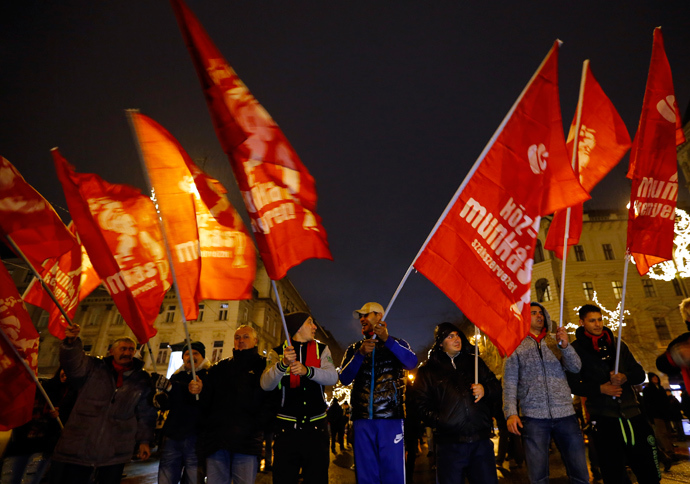 Orban's Fidesz party, who led the country out of crisis and resisted Brussels' influence, won a new term with a two-thirds majority in April 2014. Many Hungarians see the PM as a champion of national interests and credit him with lowering the personal income tax and cutting utility bills.
READ MORE:Hungary axes internet tax after mass protests
However, extensive reforms implemented since 2010 also resulted in larger taxation of industries like banking, retail and energy, and nationalization of private pension funds. The Hungarian government says the new taxes compensate for the loss of taxes in other sectors.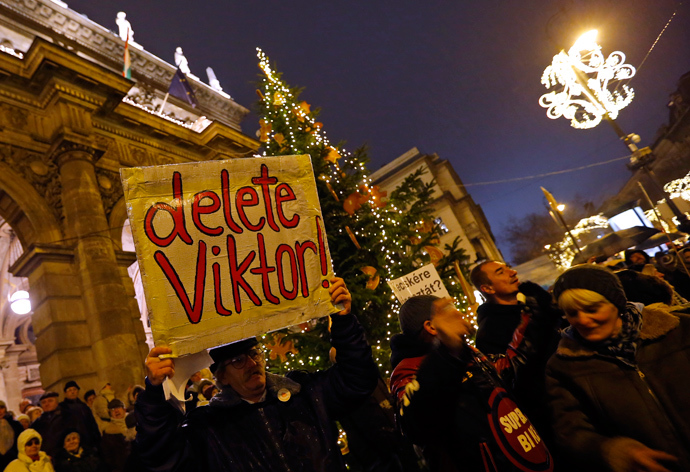 Public support for Fidesz went down somewhat toward the end of 2014 after plans to tax Internet traffic were announced. Those plans never came to life after a massive protest across the country.
Despite a ratings drop of 10 percent, as a recent poll by Szazadveg showed, Fidesz party is still maintaining its popularity with Hungarians eclipsing with its 25 percent of support its closest rivals: the far-right Jobbik (14 percent) and the Socialists (11 percent).
You can share this story on social media: