​S. Arabia beheads over 80 people in 2014, highest level in five years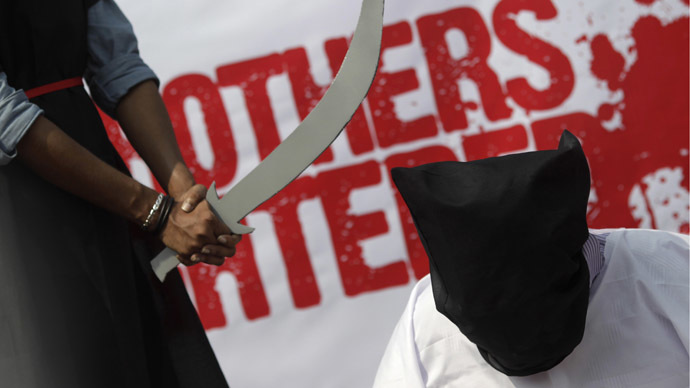 Saudi Arabia beheaded more than 80 people, a toll that brings the number of publicly announced executions to its highest level in five years.
The latest execution was a Pakistani man charged with drug smuggling.
An AP tally says that all in all 83 people have been beheaded, while AFP puts the number even higher – at 87.
On Wednesday Riyadh beheaded a Pakistani national for heroin smuggling. He became the 13th prisoner from Pakistan to be executed by Saudi authorities for drug-related crimes since mid-October. Drug smuggling convicts make up most beheading cases.
According to the country's Interior Ministry, the Pakistani citizen Sadruddin Saeedullah Khan was caught smuggling "a large amount of heroin."
READ MORE:Saudi Shia leader sentenced to death for role in anti-govt protests
During the Islamic calendar year which ended in October, police seized almost 18 kilograms of raw heroin, the ministry added.
READ MORE:Global execution rate jumps by nearly 15% in 2013
Rape, murder, armed robbery, drug trafficking, sodomy, practicing witchcraft and renunciation of one's faith are all capital offenses in the ultra-conservative absolute monarchy, which has a legal system based on Islamic or Sharia law rather than legal codes and precedents.
According to Amnesty International data, Riyadh has one of the highest execution rates in the world: 79 executions in Saudi Arabia in 2013 and 2012, and 82 in 2011 and 2010.
In August the group condemned what it called a "disturbing surge" in executions in the country.
An annual Amnesty report from 2013 said that overall 778 executions have been recorded worldwide, an increase of almost 15 percent on the previous year, with China, Iraq, Iran, Saudi Arabia and the USA topping the list.
You can share this story on social media: