12% fewer cars torched in France on 2015 New Year eve (PHOTOS, VIDEO)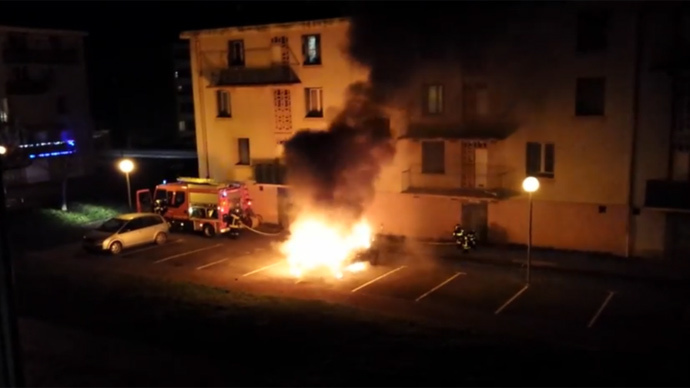 The number of vehicles torched across France on this New Year eve has fallen to 940 – a "significant" 12 percent decrease compared to 1,067 cars set aflame the year before, according to the country's Interior Ministry.
In a statement regarding the incidents during the New Year celebrations in France, the ministry emphasized a "significant decrease" in car burning incidents. Most of the cars were torched in the east of the country, said the ministry spokesman Pierre-Henry Brandet, as well as in suburban Paris where thousands of vehicles were burnt in 2005 during fiery riots.
A peak in New Year's car burning incidents was between 2005 and 2009, with many blaming media attention for the phenomenon. In 2010 and 2011 the Interior Ministry decided not to release the figures, drawing criticism that the numbers could have been too embarrassing for the government.
The reasoning behind the car torching is unknown, with some saying it is related to urban violence and anti-government protest while others consider it to be a bizarre tradition.
Deuxième action de 2015, appeler les pompiers... #FeuDartificeFoireuxpic.twitter.com/zgZZQvnhN8

— Maître Pandavocat (@Pandavocate) December 31, 2014
The increased police presence across the country has allowed to prevent any major incidents, the ministry added. Some 55,000 police officers and 38,000 firefighters were mobilized on New Year's Eve, with 1,700 deployed in Paris alone – where hundreds of thousands of peaceful French welcomed 2015 at the Champs-Elysees.
Après m'être fait cramé la voiture perso, et au vu de ce que je vois au balcon(cf photo) je pose ma dédit dès lundi! pic.twitter.com/w9L8564ygl

— SeeYaR (@seeyarblogger) December 31, 2014
As compared to last year, when firecrackers and fireworks caused as least three deaths and many serious injuries and mutilations, this time "numerous prevention and seizure" operations has allowed to avoid such incidents.
READ MORE: Deadly New Year: Tragedies mar festivities around the world
Une triste tradition de la nuit de la St-Sylvestre... Déjà un 1er feu de voiture rue de l'Aubrac (Sablons). #LeManspic.twitter.com/W4YmZKW7D1

— Sarthemag.fr (@sarthemagfr) December 31, 2014
In total French police detained 308 people that night, 251 of whom were taken into custody on various charges that were not detailed. That is compared to last year's 322 and 221 respectively.
Voiture #En2015JeVais#bonneannee2015pic.twitter.com/okptgp8cJK

— kadialy doucoure (@kadialy93) December 31, 2014
You can share this story on social media: