​AirAsia tragedy: Fuselage detected by sonar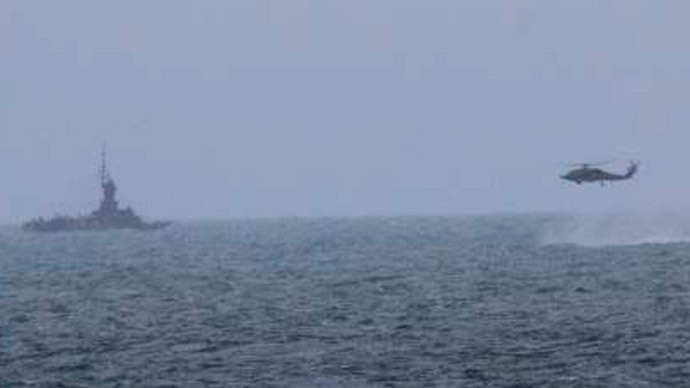 The recovery team looking for the crash site of missing AirAsia flight QZ8501 has found a large dark object lying on the seabed that is presumed to be the plane's fuselage.
The object was found in the Sea of Java off the coast of Borneo "about 30 to 50 meters under water," confirmed Mochamad Hernanto, an Indonesian official with the National Search and Rescue Agency (BASARNAS).
"We are praying it is the plane so the evacuation can be done quickly," he said.
According to the Wall Street Journal, the sonar image showed the plane lying upside down on the seabed.
Earlier rescuers recovered some debris from the crash site and a seventh body floating in the water.
READ MORE: AirAsia plane wreckage found, bodies being recovered (VIDEO)
One of the bodies recovered was wearing a life jacket, Tatang Zaenudinan, an official with BASARNAS, said.
"This morning, we recovered a total of four bodies and one of them was wearing a life jacket," he said.
However, the report was later denied by Indonesian officials.
"We found a body at 8.20 a.m. and a life jacket at 10.32 a.m. so there was a time difference. This is the latest information we have," the BASARNAS spokesman said.
#QZ8501: The deck crew of KD Lekir is seen laying the 'evacuation slide' the ill-fated aircraft. pic.twitter.com/vKAg6gGvGT

— Abdul Aziz Jaafar (@ChiefofNavy) December 31, 2014
Ships and planes involved in the operation to find the doomed plane resumed on Wednesday, but are being hampered by unfavorable weather conditions in the area.
Waves of up to 3 meters and strong winds are preventing divers from taking part in the search.
#QZ8501: Search teams have just brought a body back to Pangkalan Bun from sea via helicopter http://t.co/fU1QeMQPFCpic.twitter.com/xrDVp5Qaqn

— Channel NewsAsia (@ChannelNewsAsia) December 31, 2014
The first two bodies recovered from the crash have been transported to Surabaya, where relatives are awaiting identification of the victims to start. Indonesian authorities expect that DNA testing will be required in some cases, with laboratories on stand-by.
The Indonesian AirAsia Airbus A320-200 carrying 162 people disappeared on Sunday morning amid poor weather as it was flying from Indonesia's second-largest city of Surabaya to Singapore. Indonesia is at the helm of the search, with Singapore, Malaysia and Australia taking part as well. Thailand and the US are planning to join the operation.
After two days of scouring the sea for signs of the aircraft, the search teams started encountering debris and bodies on Tuesday, diminishing hopes of relatives of the missing people that their loved ones could be found alive.
You can share this story on social media: