​Asia-Pacific aviation industry growing faster than pilot training – experts
Published time: 30 Dec, 2014 17:08
Edited time: 30 Dec, 2014 17:31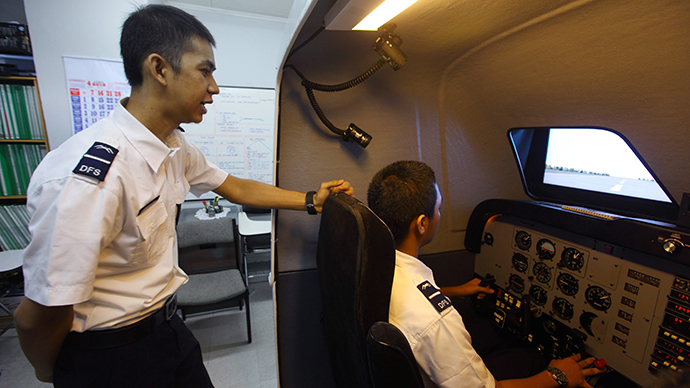 The aviation industry in the Asia-Pacific region is growing at a record-breaking pace, currently accounting for one-third of global air traffic. But the boom is being accompanied by a lack of pilot training facilities and lagging safety standards.
The tragedy of the crashed AirAsia QZ8501 flight has given a hint to how serious things could be.
READ MORE: AirAsia plane wreckage found, bodies being recovered (VIDEO)
Asia-Pacific airlines now account for 31 percent of global air passenger traffic, the International Air Transport Association (IATA) estimates. Within 20 years, the figure could reach 42 percent.
"It is the only region in the world with as many aircraft on order as in service," Brendan Sobie, an analyst at the CAPA Centre for Aviation, a consultancy in Sydney, told AP.
In its 2014 Pilot &Technician Outlook, Boeing explains what that would mean in terms of personnel.
"Over the next 20 years, the largest projected growth in pilot demand is in the Asia Pacific region, with a requirement for 216,000 new pilots," the company's report says.
Airlines in Asia currently account for half of around 330 pilot recruitment postings on the careers website of FlightGlobal.
"Every week you hear [an airline] announcing a new simulator or buying up a training school…but they can never really have enough pilots because you have so many aircraft coming in," Greg Waldron, FlightGlobal's Asia managing editor, told The Wall Street Journal.
It is estimated that any new plane has to have a dozen of pilots assigned to it, but Southeast Asia does not have enough training facilities to provide that number. It has to recruit a lot of personnel from abroad, according to the Wall Street Journal. AirAsia Flight QZ8501 was one example of that, as the assistant pilot was a French national, 45-year-old Rémi-Emmanuel Plesel.
"The exponential growth in and the demand for air travel were not anticipated by many of the governments in the region," Shukor Yusof, founder of the Malaysia-based aviation research firm Endau Analytics, told AP. "And so you're seeing a lack of infrastructure, airports and pilots because nobody expected low-cost travel would have taken off as quickly, as rapidly, and would be as lucrative as it is now."
Every fourth passenger in Southeast Asia is flying with a low-cost carrier, it is estimated. And not all of the budget airlines have a good safety record.
Indonesia's fast-growing Lion Air, the main competitor to AirAsia, is banned by the EU, for example, from flying to any of its member countries. And that's because of low safety standards.
European skepticism does little to prevent Lion Air from growing further, though. The company currently has 508 aircraft orders with Airbus and Boeing.