Death toll rises to 10 in Italian ferry accident, dozens 'unaccounted for'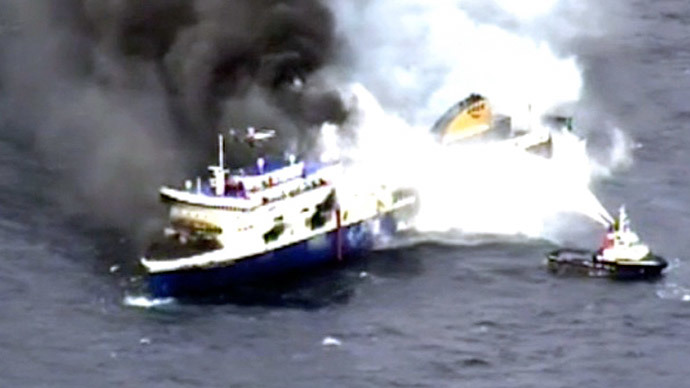 The death toll following a blaze on an Italian ferry that caught fire off Greece's Adriatic coast has risen to 10. Dozens were reportedly unaccounted for after the evacuation ended, amid possible inaccuracies in the owner company's manifest list.
As the evacuation ended on Monday afternoon, rescue teams had saved over 400 people – but the exact number was disputed.
Greek Coast Guard spokesman Nikos Lagadianos cited Italian authorities as saying that 432 people, including passengers and crew, were rescued from the Italian Norman Atlantic ferry, AP reported.
But speaking at a press conference in Rome, Italy's transport minister, Maurizio Lupi, said that only 427 had been accounted for so far.
The ferry company initially reported that 478 passengers and crew were on board. Officials couldn't explain the discrepancy in figures.
Lupi said it is "absolutely premature" to say if the people are missing or not, as there might have been some inaccuracy in the owner company's manifest list.
The fire broke out on the ferry traveling from western Greece to eastern Italy at around 6:00 a.m. local time (04:00 GMT) on Sunday, according to coast guard officials.
Due to stormy conditions, the rescue operation proved extremely challenging. Italian and Greek helicopters started airlifting passengers from the upper deck on Sunday and continued the rescue operation throughout the night.
"We are outside, we are very cold, the ship is full of smoke, the boat is still burning, the floors are boiling, underneath the cabins it must be burning since 5 o'clock, the boats that came are gone, and we are here. They cannot take us," one of the passengers told Greek TV station Mega.
The Italian captain abandoned the ship only after the passengers and over 50 crew members were rescued on Monday, said Lupi. Among the rescued passengers were 234 Greeks, 54 Turks, 22 Albanians, and 22 Italians, he added.
A criminal investigation has been launched to determine the cause of the fire.
You can share this story on social media: