Italian ferry: 8 fatalities, hundreds evacuated day after fire broke
Most passengers have been evacuated from an Italian car ferry that caught fire near a Greek island on Sunday morning, prompting a massive rescue mission. Eight people were reported dead and several injured.
The rescue operation finished on Monday afternoon, according to Italian Prime Minister Matteo Renzi, as cited by RIA Novosti.
Italian authorities raised the death toll to eight people on Monday.
RT's Ruptly agency reported that the ship carrying those rescued from the Italian Norman Atlantic car ferry headed off to the port of Bari.
Fire broke out on the ferry traveling from western Greece to eastern Italy at around 6.00 am local time (0400 GMT), coast guard officials said on Sunday.
#BREAKING#NormanAtlantic rescue:190 people saved, 287 still on board the #ferry Rescue operations continue all night pic.twitter.com/71gEAzOyXF

— Marina Militare (@ItalianNavy) December 28, 2014
Greek Shipping Minister Miltiadis Varvitsiotis said that due to the stormy conditions the rescue operation proved extremely challenging.
Dwarsdoorsnede veerboot #NormanAtlantic waarop brand woedt persbureau @Agenzia_Ansa: http://t.co/WeQqp0frgipic.twitter.com/iow8emrBI8

— roeland roovers (@r0eland) December 28, 2014
"We are doing everything we can to save those on board and no one, no one will be left helpless in this tough situation,"Varvitsiotistold reporters on Sunday."It is one of the most complicated rescue operations that we have ever done."
According to reports, emergency crews have managed to put out the fire as the weather has somewhat improved.
Earlier, torrential rain and strong winds reaching 100 kilometers per hour complicated the international evacuation, which included Italian and Albanian forces.
Italian navy spokesman Riccardo Rizzotto told AFP that due to the unusual conditionsm rescuers "need an extraordinary level of support, which is effectively what is being put in place,"and added that the ferry was now drifting towards the Albanian coast.
The captain of the ferry, owned by ANEK, a Greek company, is Italian, and 278 on board are Greek. There are people of several other nationalities from countries such as Germany, Austria, Turkey, France and the Netherlands, according to Reuters.
ANEK operators have not yet explained how the fire started.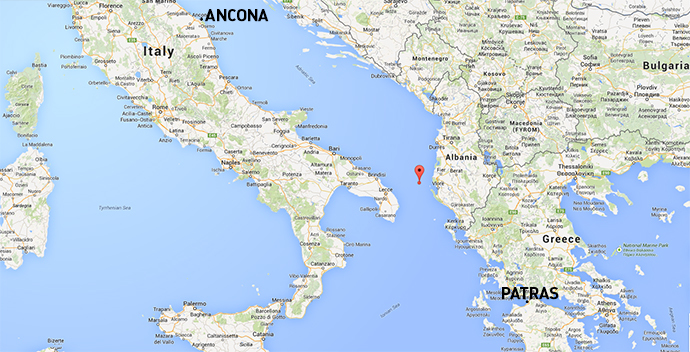 The freezing and frightened passengers called Greek television stations from the deck and bridge of the ship, according to France 24.
One reportedly told a Greek TV channel that their shoes were melting from the heat of the fire below.
Others dramatically described the evacuation.
"They tried to lower some boats, but not all of us could get in. There is no coordination," one said, as cited by Reuters. "It's dark, the bottom of the vessel is on fire. We are on the bridge, we can see a boat approaching... we opened some boxes and got some life vests, we are trying to save ourselves."
Nikos Papatheodosiou's phone call was more emotional: "We are burning and sinking, no one can save us. Please help us! Don't leave us!"
Several people reportedly jumped into the water, but it is unclear whether there are any casualties. However, cold winter temperatures will lessen their chances of survival if this is the case.
BREAKING: Major rescue under way after fire breaks out on Norman Atlantic ferry http://t.co/XENg1dqTQtpic.twitter.com/5PnUB1huVx

— The Independent (@Independent) December 28, 2014
Rescue helicopters and a C-130 search-and-rescue support aircraft have been sent to the scene. Seven nearby ships havebeen instructed to take passengers and crew members from the ferry, said Merchant Marine Minister Miltiadis Varvitsiotis, according to AP.
"We are doing everything we can to save those on board and no one, no one will be left helpless in this tough situation," Varvitsiotis told reporters, as cited by Reuters. "It is one of the most complicated rescue operations that we have ever done."
Greek Prime Minister Antonis Samaras has already contacted his Italian counterpart Matteo Renzi to coordinate the rescue efforts, government spokeswoman Sofia Voultepsi told the Greek TV-channel Skai. "It is a very difficult rescue operation," she said, as cited by TASS. The ferry lost control in Greece's waters, so the responsibility for the operation falls on Athens.
You can share this story on social media: