Khamenei trolls US police brutality on Twitter, uses hashtags #Ferguson & #Jesus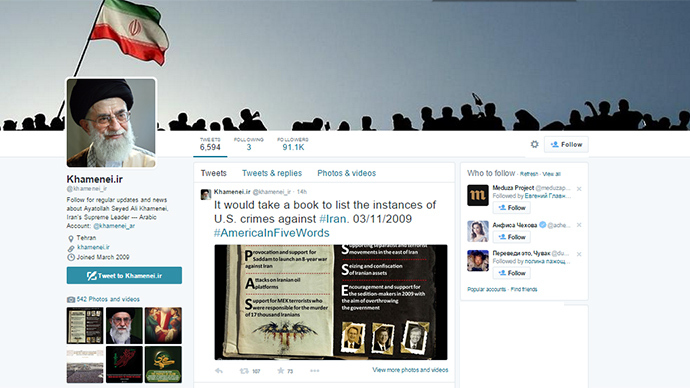 A Twitter account believed to be led by Iran's supreme leader, Ayatollah Ali Khamenei, has lashed out at the US establishment over police violence and racism, tweeting out messages under popular protest hashtags and appealing to Jesus Christ's sufferings.
READ MORE: Obama writes secret letter to Iranian leader urging him to join fight against ISIS
In a series of tweets on Sunday, the account attacked what it said was America's hypocrisy over the Ferguson protests. It went as far as contrasting the Biblical motive of Jesus suffering for the oppressed to the alleged US police oppression of African-Americans.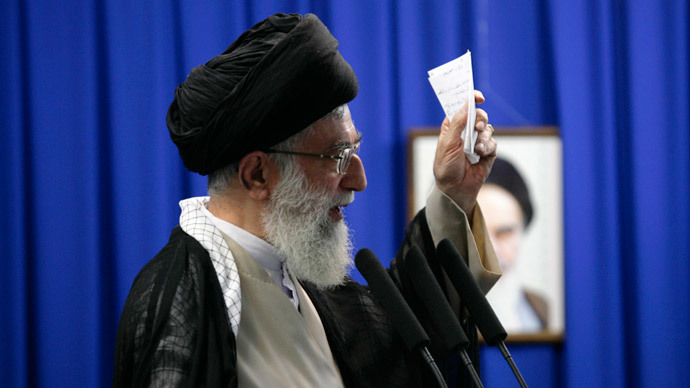 "#Jesus endured sufferings to oppose tyrants who had put humans in hell in this world& the hereafter while he backed the oppressed. #Ferguson," @khamenei_ir tweeted.
It's expected that followers of #Jesus follow him in his fight against arrogants and in his support for the oppressed. #BlackLivesMatter

— Khamenei.ir (@khamenei_ir) December 28, 2014
In one of the tweets, the Muslim cleric also made a connection between the struggle that black people in America endure in the face of police shootings and the suffering of Palestinians in Gaza.
"If #Jesus were among us today he wouldn't spare a second to fight the arrogants&support the oppressed. #Ferguson #Gaza," the tweet said.
#Ferguson#GazaUnderAttack#ICantBreathe#WakeUpCall#Gazapic.twitter.com/Ldv8jXleSS

— darius winn (@darius_winn) December 20, 2014
support & solidarity from #Hamas in #gaza to #Ferguson protesters pic.twitter.com/QFpEuab4Qe

— Zeyad (@Okhowa) November 27, 2014
READ MORE: US rejects Iran's offer to cooperate against Islamic State
This is not the first time that Khamenei's Twitter account has criticized the US over police brutality against black people, as it also reacted to the death of Michael Brown, an unarmed black teenager who was shot dead by police officer Darren Wilson in Ferguson, Missouri on August 9.
Back in August, the account said that African-Americans are still oppressed and discriminated against in the US.
Today like previous years, African-Americans are still under pressure, oppressed and subjected to discrimination. #Ferguson

— Khamenei.ir (@khamenei_ir) August 17, 2014
Following a grand jury's decision not to indict Wilson on November 24, the supreme leader tweeted that Washington was being dishonest with its own people.
"At events in #Ferguson US is fighting w its ppl. #BlackLivesMatter," the message said.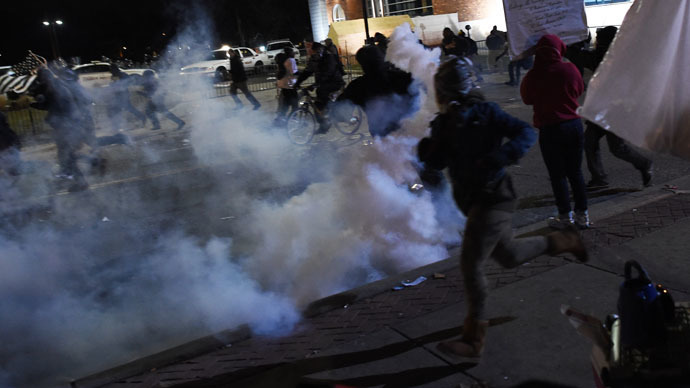 Back in 2011, during the Occupy movement in the US, Khamenei used the moment to predict that the demonstrators would usher in the downfall of the capitalist system.
Khamenei's English account has never been verified by Twitter. It is believed that the account is managed by the leader's office, which has neither confirmed nor denied the fact.
READ MORE: Iran refuses to help 'self-serving' US fight ISIS
You can share this story on social media: