French Alps hit by massive snowfall, thousands of cars stranded (PHOTOS)
Published time: 28 Dec, 2014 11:53
Edited time: 28 Dec, 2014 12:46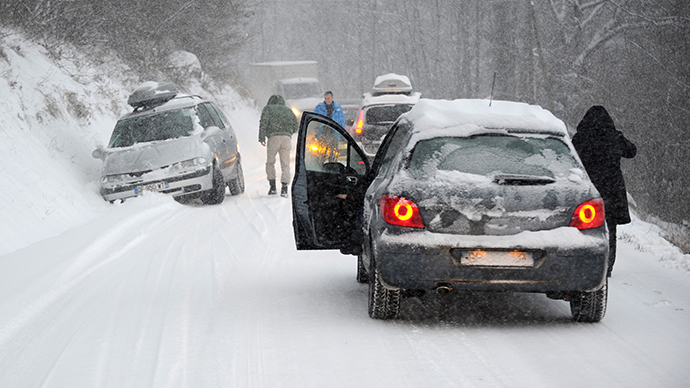 Massive snowfall, aggravated by strong winds and ice in the French Alps, has trapped thousands of holidaymakers, with up to 15,000 people forced to spend Saturday night in emergency accommodation centers in the Savoie region in southeastern France.
Conditions remained difficult on Sunday, a spokesman for the Savoie prefecture said. Authorities set up shelters in a dozen towns for stranded tourists in the area.

The chaos on Saturday left nearly 2,000 passengers stranded at Chambery airport in southeastern France. A spokesman for the Savoy region, which comprises roughly the territory of the Western Alps between Lake Geneva in the north and Dauphiné in the south, said: "We have not estimated the number of people who spent the [Saturday] night in their cars."

According to the prefecture, a number of travelers were taken care of in emergency shelters that became almost 100 percent full. "There were 83 shelters open," Transport Minister Alain Vidal said on Sunday on Europe 1.
Neighboring departments, Hautes-Alpes and Haute-Savoie, also opened several hundred beds in Gap, Briançon, Annecy and Cluses under emergency accommodation plans over Saturday and Sunday nights, Le Dauphiné Libéré reported.

Early Saturday morning, the traffic along the Tarentaise Valley, a key path into a number of popular resorts, was disrupted.
Thousands of cars were blocked because of the terrible weather. "We just made 130 km in 10 hours," Kevin Clavel told told Le Dauphiné Libéré, as he was stuck in his vehicle with four other passengers on A410 highway between Albertville and Chambery.

Interior Minister Bernard Cazeneuve and Secretary of State for Transport Alain Vidal praised "the coolness and sense of responsibility" of drivers, asking all those, who still can, to postpone their trips and to exercise "the utmost caution."
"Getting to the ski stations is still pretty tricky and snow chains are mandatory. The advice is that all those who can should delay their journey," the Transport Ministry also said in a statement.
Due to heavy snow and significant wind gusts, 19 departments were placed on the country's second-highest "orange alert" in northeast France and the Northern Alps on Saturday.

In northern France, wind gusting at nearly 160 km/h led to the closure of the port of Calais, interrupting ferries to England, and traffic restrictions on the A16 motorway along the coast. In Ile-de-France, the gardens of the Château de Versailles also had to be closed to the public because of the high wind, Le Monde reported.
Heavy snow and ice caused the greatest disruption in the east of the country. At midday on Saturday, a 27-year-old man was found dead in his car after his vehicle slid into a gorge in the Belledonne mountain range in the Isère region. The accident was "probably due to snow," the police said. The car did not have snow tires, Le Figaro reported. A female passenger in the car was slightly wounded and taken to hospital in Grenoble.