​'10.0 quake-resistant!': Demolishers desperate, high-riser intact after 2 blasts (VIDEO)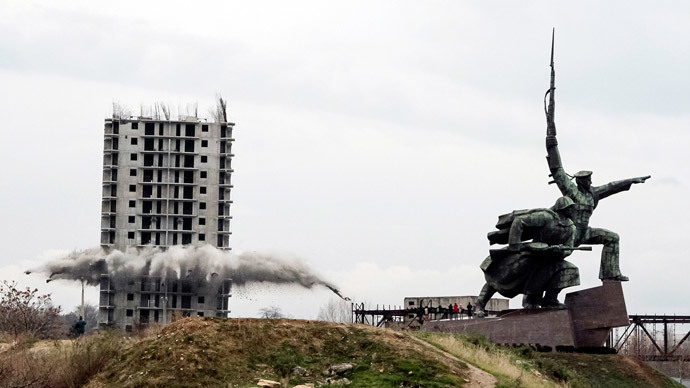 After two attempts to blow up a building in the Crimean city of Sevastopol, authorities were forced to leave the illegal structure teetering at a 20-degree angle for hours. A total of 400 kilos of explosives was used with the third, successful attempt.
In Ruplty video footage, onlookers laugh and holler as demolition experts tried to detonate the building twice on Friday, both times unsuccessfully.
The building construction head, who arrived on the scene, told reporters the building was tough.
"It's reinforced concrete. It's built like a bunker, you can't blast through it with mortar. The building can withstand a 10-magnitutde earthquake," he said, as cited by TASS.
Residents in houses within a 250-meter radius of the building were evacuated to the nearest hotel and surrounding streets were closed to through traffic.
It was later confirmed that the third attempt undertaken on Saturday was successful. The entire process used up 400 kilograms of explosives and cost the city budget 5 million rubles ($98 thousand).

Construction on the 16-story building began last year, but was never completed. The building was supposed to become half of a set of twin high-rises in central Sevastopol.
However, the authorities later ruled that the construction process was flawed, and the company had no right to start building it in the first place.
You can share this story on social media: