Free Xmas cash nightmare: Hong Kong couple arrested for scavenging $1.9mn
Published time: 26 Dec, 2014 14:58
Edited time: 26 Dec, 2014 15:13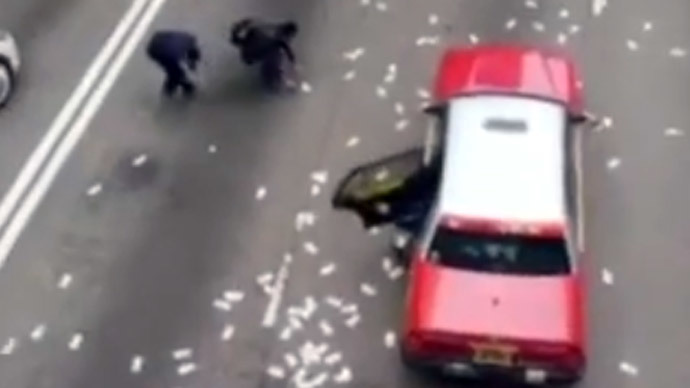 Christmas joy was short-lived for two people, who scavenged almost $2 million dollars in cash after a security van's faulty backdoor scattered money all over the road. The two have been arrested after piles of bills were found under their beds.
READ MORE:Christmas Eve 'miracle': Money rain in Hong Kong prompts sprint for 'free' cash (VIDEO)
A 43-year-old businessman and a 36-year-old cosmetologist were passengers in a taxi that passed by Gloucester Road, near Hong Kong's financial district, when an estimated sum of 15 million Hong Kong dollars (US$1.9 million) accidentally spilled on the highway on Christmas Eve. The security van transporting the cash contained a total of HK$270 million (over $34 million), according to police.
"We found the money stored under the bed at their homes and they admitted they took the money on Gloucester [Road] after getting off the taxi they were in," Police Chief Inspector Addy Li Chi-kin said at a media briefing, as cited by South China Morning Post.
The suspects were traced after police recovered CCTV footage.
"During the mission police found HK$165,000 [$21,264] in cash at the male suspect's home in Kowloon Bay. In-depth investigation is still under way in the female suspect's home, Tseung Kwan O."
At least 30 people have returned a total of HK$5.69 million ($733,299) to police officials.
Li added that police officials will arrest "as soon as possible" all those people identified picking the cash up on Christmas Eve.
Media reports state the van had a faulty rear gate, which led to piles of money falling out.
#Christmas comes early to #HongKong, folks grab cash after bank truck spills http://t.co/gizhLv31Yv via @CoconutsHKpic.twitter.com/pW32Kmo2cR

— Coconuts Bangkok (@CoconutsBangkok) December 25, 2014
A witness told the South China Morning Post that most of the cash "was gone within minutes."
"There were 20 or 30 people picking up cash from the road on Christmas Eve. They looked like school kids who knew they were being naughty, but thought: " 'This is once in a lifetime thing.' Everyone had the same look on their face."
The Bank of China (BOCHK) said the security service company G4S had promised to pay for all the losses.
"G4S has apologized for the incident and will hold liable to all the losses incurred based upon the contract engaged with BOCHK," the statement reads.
The bank added that it "has already urged G4S to investigate into the incident by identifying root causes and adopting prompt remediation to prevent further recurrence in the future."