Indonesia to ban virginity tests for female civil servants…except police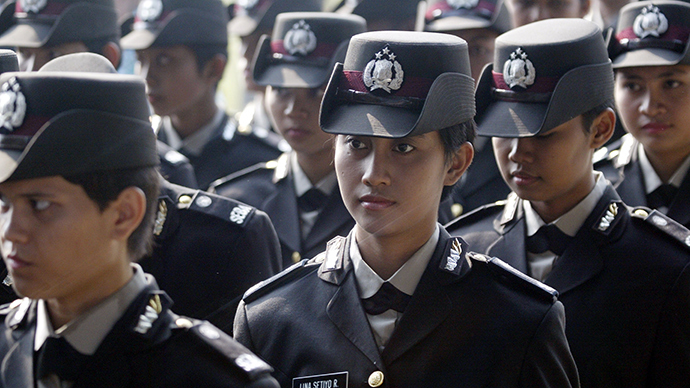 Authorities in Indonesia plan to ban virginity tests for female civil servants following widespread condemnation that the country's police force still uses the "degrading" practice to vet candidates.
Home Affairs Minister Tjahjo Kumolo said he is working to put an end to the tests for women seeking to enroll in the Institute of Public Administration, a college for civil service and regional administrators in training.
READ MORE: Indonesia still performs 'virginity tests' on female police job applicants - HRW
"[That] a woman is not a virgin can be due to several reasons, such as a fall," the Bangkok Post cites Tjahjo as saying. "This should not be a measure. It is a pity that just because of that a woman fails to qualify, even though she is competent."
Despite the push to ban the testing practice for civil service hopefuls, the police force has not changed its policy.
In November, Human Rights Watch issued a scathing report saying female recruits hoping to join the police force were still being subjected to the "degrading" 'two-finger' test.
The police force already enforces strict requirements for women, who account for only 3 percent of 400,000 police officers in Indonesia.
Candidates must be between the ages of 17.5 and 22 years old. They can neither have been married nor divorced, must follow one of six officially-identified state religions, and they must be at least 5'5" (165cm). They are also forced to undergo a health check, which includes an examination of reproductive health and virginity.
Human Rights Watch interviewed female police and police applicants in six Indonesian cities who had undergone the test, two of them in 2014. Although failing the virginity test did not automatically disqualify them from the force, all of the women described the test as painful and traumatic.
Many of the women were only made aware of the tests just moments before it was conducted.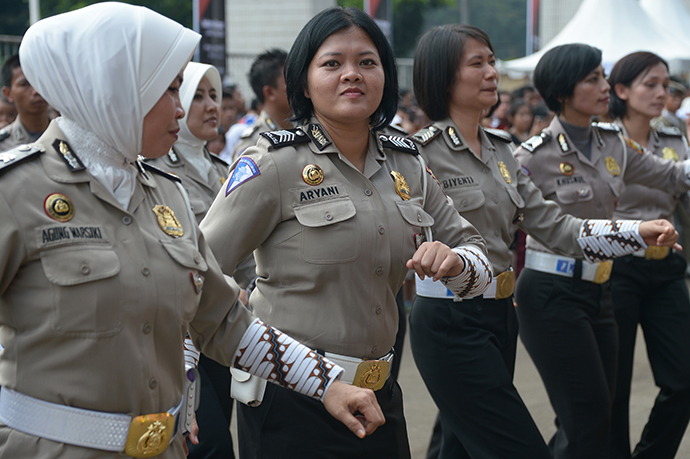 "The tests contravene National Police principles that recruitment must be both 'nondiscriminatory' and 'humane,' and violate the international human rights to equality, nondiscrimination, and privacy," the New York-based group wrote in November.
"Coerced 'virginity tests' can also constitute cruel, inhuman, or degrading treatment prohibited under international law."
At the time, National Police spokesman Ronny Sompie said the test was not discriminatory.
"There is a complete health test for both female and male candidates including checking reproductive organs and the virginity test for women will be a part of that routine," he said.
"But there has never has been a rule that requires policewomen to be virgins, so there is no discrimination."
Despite the stringent tests, women are expected to account for 5 percent of the police force - 21,000 officers - by the end of the year.
Apart from Indonesia, Human Rights Watch says it has also documented the practice of virginity tests for policewomen in other countries including Egypt, India and Afghanistan.
Last year, some education officials in Indonesia created controversy by proposing that virginity tests be introduced for teenage schoolgirls.
You can share this story on social media: