30-meter flame engulfs 'cursed' Christmas market in Berlin
Published time: 23 Dec, 2014 14:46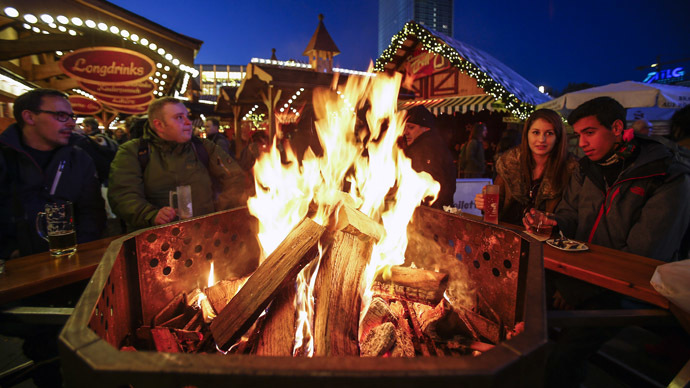 A massive blaze has become the latest incident in a string of misfortunes to hit a large Christmas market in central Berlin, making German media wonder if the place is cursed.
The fair at Alexanderplatz square is called 'Winter Magic,' but it seems the magic has a rather dark side.
Flames licked 30 meters high in the heart of Berlin on Monday as the fire destroyed a two-story lottery both and damaged two other buildings at the market, the Local reports.
The incidents resulted in no fatalities or injuries because the fire broke out early in the morning, when the Winter Magic market wasn't yet opened to the public.
#Fire on the Christmasmarket at Alexanderplatz #Berlinpic.twitter.com/FLdCbHK3Ga

— sweetpoison (@Paaaarttyygirl) December 22, 2014
After several hours, fire fighters managed to put the blaze out, with Winter Magic now operating according to schedule.
The fire is the second accident to befall the market this month alone.
On December 8, a 58-year-old man was killed after falling from the top of a 60-meter Ferris wheel.
A 60-year-old woman, who witnessed the tragedy was shocked and had to be taken to hospital.
In 2012, the martket's Booster Max ride broke down and stranded passengers were on the verge of hypothermia after being stuck for half-an-hour 55 meters above the ground in below zero temperatures.
A year later, the infamous Ferris wheel endangered its passengers again after it came to a standstill due to a cable catching fire.
Feuer am Berliner Alexanderplatz. Bude auf Weihnachtsmarkt ausgebrannt. http://t.co/fnsYUHMKqapic.twitter.com/kJYISOaKsM

— BILD News (@BILD_News) December 22, 2014
Emergency services had to perform a complex rescue operation to free 25 people from the ride. 14 passengers also had to be rescued from the Revolution ride after it was stuck 10 meters above ground in 2009. After these events, the Berliner Zeitung has suggested that the Winter Magic Christmas market has "a curse on it."