Italian neo-fascists arrested ahead of planned Christmas terror campaign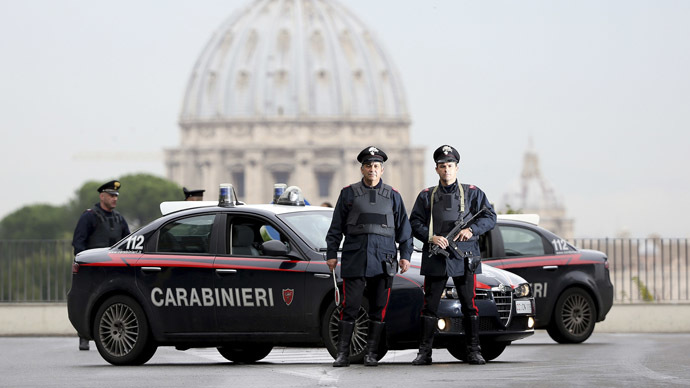 Italian police have arrested 14 neo-fascists after they uncovered a plot to assassinate politicians and attack immigrants. Members of a banned far-right splinter group also planned to attack police in a campaign of violence over the Christmas period.
#Italy Dismantled neo-#fascist ring was planning to bomb gov. offfices, target politicians, then "contest elections" pic.twitter.com/AquUD4sYP3

— ANPI Brescia (@AnpiBrescia) December 22, 2014
General Mario Parente, who headed the anti-terrorism group, told a press conference that the neo-fascists had begun to stockpile arms and weapons and were planning a terror campaign over the festive period.

An offshoot of the banned Ordine Nuovo (New Order) group wanted to kill politicians "10, 11 at a time," as well as blow up the Equitalia tax collection agency, while they also wanted to launch attacks on police stations, according to Italian newspaper La Repubblica.

Parente told journalists that his undercover team had been working for the last two years to try and infiltrate the group and they made 14 arrests across northern and central Italy. Another 44 people are currently under investigation.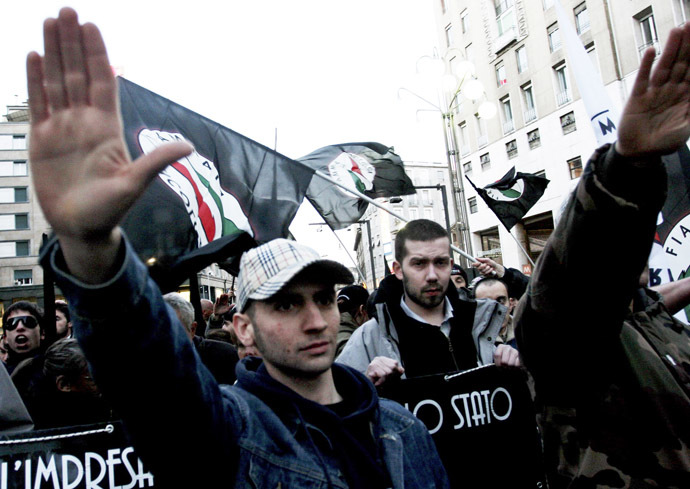 READ MORE: Economic crisis prompts Italians take refuge in fascism
The far-right group was led by 48-year-old Stefano Manni, a former policeman from Ascoli. The organization's aim was to try and "destabilize social stability by carrying out attacks against infrastructure of strategic importance," La Repubblica said.
L'Aquila, blitz contro terrorismo neofascista: 14 arresti in tutta Italia http://t.co/e3CqbMyGrE

— la Repubblica (@repubblicait) December 22, 2014
Ordine Nuovo had planned to raid the home of weapons collectors, while they had also recovered some arms that had been buried after World War II and used contacts in Slovenia. The organization also used social networking sites such as Facebook to spread their racial hatred.

The group was founded in 1956 in a bid to reform the Fascist party, and accused of being behind several bombings in the early 1970s. It was officially dissolved by the Italian government in 1973.
READ MORE: Berlusconi defends Mussolini on Holocaust Remembrance Day, sparks outrage
You can share this story on social media: