Probe reveals major security flaws at Frankfurt Airport – report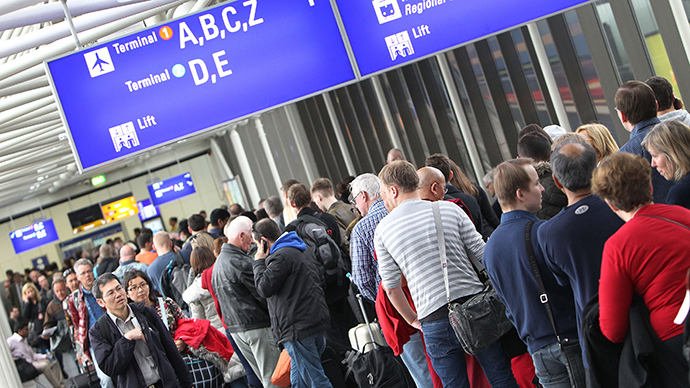 Undercover inspectors posing as passengers have managed to smuggle banned items through security at Frankfurt's air gates, revealing major security lapses at Germany's largest airport as part of an EU probe, German media reports.
Posing as regular passengers, the EU-hired agents were successful at sneaking dangerous items, including weapons, every other time they tried, Germany's Bild am Sonntag weekly reported.
READ MORE: Leaked CIA docs teach operatives how to infiltrate EU
Investigators sent by the European Commission believe such poor performance by the security personnel at Frankfurt Airport is due to poor training. Due to their training they often were not able to recognize security risk items during the x-ray scans of the luggage.
The bigger problem stems from the fact the airport relies on a privately owned service provider to handle security, but it was unclear from the EU investigation how much.
"It raises the question whether Frankfurt Airport's security is flawed in entirety or is it only a part?" Chris Yates, a UK-based aviation-security expert, told Deutsche Welle.
The report allegedly says the status of Frankfurt airport could be changed to "non-Schengen airport," if the European Commission remains unconvinced that the airport has done enough to ensure passengers' safety. If the status is changed, travellers flying through Frankfurt would be would be double checked upon arrival in other European Union countries.
"We take this seriously," Christopher Holschier, spokesman for Fraport AG, the company that operates Germany's biggest airport, told Bild am Sonntag. "A total of 2,500 workers are being retrained, to ensure that suspect objects can no longer pass undetected through security checks," he added.
Frankfurt Airport is operated by Fraport and serves as the main hub for Lufthansa, Germany's biggest airline. The air hub handled 58 million passengers in 2013. It is by far the busiest airport in Germany, and the third busiest in Europe after London Heathrow Airport and Paris-Charles de Gaulle Airport.