Rallies staged in over 30 Spanish cities against tough new anti-protest law (PHOTOS)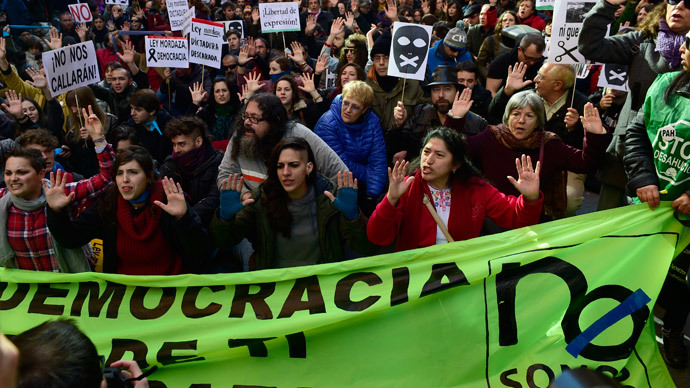 More than 30 cities in Spain have expressed their anger over the so-called 'gag' legislation that criminalizes social protest and, demonstrators say, curbs the freedom of expression.
The slogan of the movement is "Gag Law, why do they want to shut us up?" and unites several groups of citizens spearheaded by the "We Are Not Criminals" civil platform.
The demonstrators also believe that the legislation would allow the deportation of immigrants. "No Human is Illegal," was another of the slogans of the demonstrations.
In Madrid, police have cracked down on the protest after checking the participants' IDs. Security has been stepped up in the areas where the rally took place.
PiratasMadrid: Miles en #Madrid contra la #LeyMordaza porque Madrid será la tumba del fascismo #ALaCalle20D Noso... pic.twitter.com/oSJZIlmn25

— Barri (@BarriPdmx) December 20, 2014
A local orchestra played and people sang during the Madrid demonstration. "When the people rise, it is a voice no one can stop. Do you feel the strength of the singing that they will not submit?" one of its verses said.
In Catalonia, protesters were wearing T-shirts reading, "Why should we shut up if we were born screaming?"
Demo in Sol sq #Madrid@PcpSol#ALaCalle20Dpic.twitter.com/iBKpyYqYc6

— Take the square (@takethesquare) December 20, 2014
The Barcelona rally saw around 12,000 people participating, according to estimates.
Across Spain, organizers have urged the participants to carry on fighting against the law, saying, "Today, we have thousands in all regions," and "We will continue to stop the law."
Se grita "Patricia Heras, ni oblit ni perdó" #ALaCalle20D#Barcelona#NoALeyMordaza cc/ @ciutatmorta@xapo_pic.twitter.com/v9hZ3B35Cj

— #MacheteAlMachote (@Sirereta) December 20, 2014
On Thursday, the Cortes, the lower house of the Spanish parliament, approved the law, dubbed the "Ley Mordaza" or "Gag Law" by its critics. The ruling conservative People's Party dominated the vote, despite all the opposition forces voting against the legislation.
The new law stipulates that organizers of unsanctioned rallies will receive a fine of up to €600,000 ($745,000). Citizens who refuse to obey the police or try to prevent evictions, are set to get a €30,000 fine.
#20D 12h Pza Ópera #Madrid Concentración #AlaCalle20D NO a #LeyMordaza porque #MovilizarseSirve y @NoSomosDelito#15Mpic.twitter.com/hYpXlkNKay

— Asamblea Móstoles15M (@Mostoles15M) December 20, 2014
#ALaCalle20D de @Nosomosdelito. Manifestantes cantan: "Los niños de #Madrid pasan hambre". @Zurine3pic.twitter.com/kto4dVjBCM

— WILLIAM CASTRO (@4579William) December 20, 2014
#Barcelona: 11,500 protesters against #GagLaw & for the anarchists imprisoned this week #ALaCalle20Dpic.twitter.com/FjgbI74rkF

— eⒶtps (@eatps_) December 20, 2014
Ends the demo at Govt Del., first estimations 12000 have participated in #Barcelona@Fotomovimiento#ALaCalle20Dpic.twitter.com/LWdmSiJWdI

— 15MBcn_int (@15MBcn_int) December 20, 2014