Cuba won't give up principles for Washington's promises – Russian deputy PM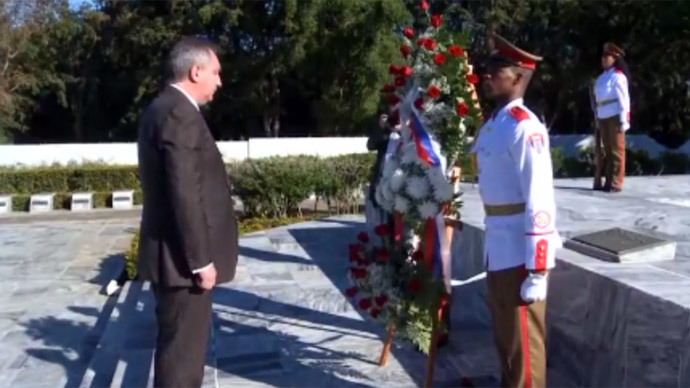 Moscow always knew that the economic blockade of Cuba was doomed, Russian Deputy Prime Minister Dmitry Rogozin said on a visit to Havana.
READ MORE: Cuba to stand by its communist principles, Castro says
"This means Cuba will not drop its fundamental position in exchange for the promises, which so far are just part of an oral dialogue initiated by Washington," the deputy PM told Russian reporters after more than 90 minutes of talks with Cuban President Raul Castro.
Rogozin pointed out that normalization of the bilateral relations between the US and Cuba has been initiated by Washington. This means that Havana, which strived to lift the American embargo for full 54 years, has prevailed, he said.
"Cuba is a small country, but over 50 years of blockade ended with the US admitting its wrongness and weakness," Rogozin told RT, adding that if small countries can withstand sanctions, bigger ones should all the more be able to do so. "We always believed that the blockade would fall, and it did. We also believe that sanctions against Russia will leave those who introduced them in shame," the Russian Deputy PM said.
From now on Washington will be giving Havana a "suffocating hug," said Rogozin, who supervises Russia's defense sector, upon his arrival to Cuba.
Meeting Cuba's President Raul Castro and start of negotiations. We had a good long talk. More than an hour and a half pic.twitter.com/QaRapJagEt

— Dmitry Rogozin (@DRogozin) December 20, 2014
"If the US thinks these changes will bring Cuba back to capitalism and return it to being a servile country to hegemonic interests of the most powerful financial groups in the US, they must be dreaming," Raul Castro's daughter, Mariela Castro, told The Associated Press on Friday.
'We don't need to make extravagant steps'
Answering a question about possible military cooperation between Russia and Cuba, Rogozin said that Moscow has no intention to reinstall military bases in Cuba.
Modern military hardware enables Russia to "see and hear" from a far greater distance than before, so there is no need to move military infrastructure "close to the countries that might react very painfully to this," Rogozin said. "We don't need to make extravagant steps."
Russia has always been maintaining Cuba's "necessary wants," but the latest talks were focused on civilian projects, Rogozin said.
"If Cuba's economic condition improves and we agree in near future to open new credit lines to finance infrastructure, energy and transport objects, Cuba will have new financial capacity, that will among other things allow it to modernize its military hardware," Rogozin said.
Cuban authorities are closely following the ongoing standoff between Russia and the West, which includes global economic sanctions against Moscow.
"Our Cuban friends are also interested in our position regarding the pressure on Russia from the West," Tass quoted Rogozin as saying. For the Cubans it is extremely important to see that Russia is not giving in to external pressure and is not changing its principal positions, such as on national independence and sovereignty, particularly in connection with the recent reunion with the Crimea Peninsula, Rogozin added.
Rogozin called the talks with Castro "a very deep, sincere discussion" and noted that the decision of the Russian government to send delegation to Cuba now "demonstrated progress right on time" and resulted in signing the "long outstanding agreements."
Cuban authorities have invited Russian companies to invest into the island's oil and ore mining, energy projects, tourism and telecommunications.
You can share this story on social media: