Anti-Moroccan chant lands anti-Islam politician Geert Wilders in court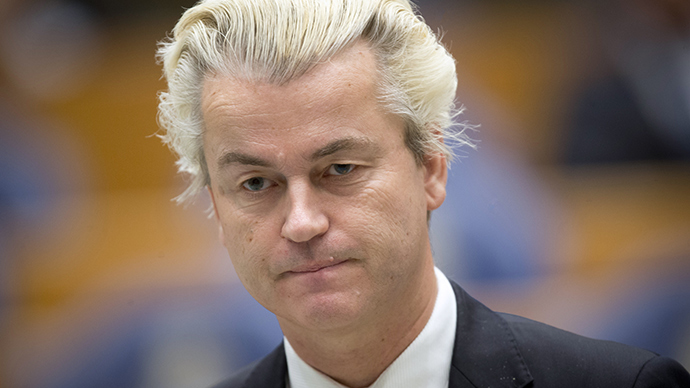 Dutch authorities are going to prosecute far-right anti-Islam politician Geert Wilders over his controversial remarks made in March at his party rally which they said incite racial hatred.
Before the municipal elections this March, Wilders, who is the leader of the Party for Freedom – PVV, asked his supporters if they wanted fewer Moroccans in the city. The question was posed at a café in The Hague and met with audience approval.
"We'll take care of that," Wilders then said.
READ MORE: Rise of right-wing extremism rattles Europe
The meeting was broadcast over the country and the words caused over 6,000 legal complaints as well as severe criticism.
On Thursday the Public Prosecutor said the politician would be prosecuted "on charges of insulting a group of people based on race and incitement to discrimination and hatred".
"Politicians may go far in their statements, that's part of freedom of expression, but this freedom is limited by the prohibition of discrimination," it said in a statement.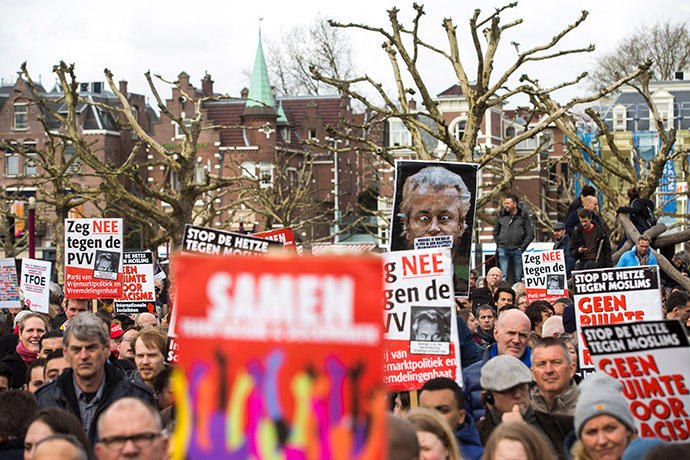 Wilders rejected the accusation.
"I said what millions of people think and believe," he declared. "The public prosecutors should be going after jihadis instead of me. The PVV is the largest party in the polls and the elite apparently doesn't like it."
READ MORE: The A-Z of European parliamentary elections
"For the second time, one apparently wants to deal with someone who speaks the truth. It is a travesty that I have to defend myself in court for this."
The police summoned Wilders for questioning on December 8, however he refused to answer questions.
PVV – Party for Freedom is the fourth largest in the country though it tops the polls in the country nowadays. The party is known for its stance against Islam and immigration. Previously, Wilders even compared the Quran to Adolf Hitler's Mein Kampf. He has received many threats due to his anti- Islamic views, he lives under police protection.
Dutch authorities already tried to charge Wilders on similar matterin 2007 but after three years of legal process he was acquitted. However, that time his words targeted religion which is permitted by Dutch law.
READ MORE: Dutch politician acquitted of hate speech charges
You can share this story on social media: