​Mass HIV/AIDS outbreak spreads panic in Cambodia village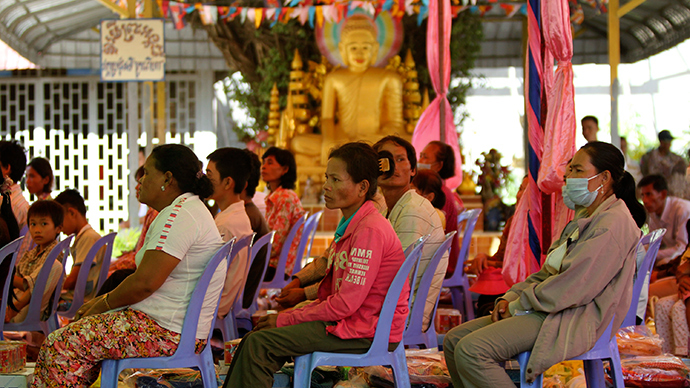 More than 80 people, including elderly, women and children, have tested positive for HIV/AIDS infection in a small village in Cambodia, authorities confirmed. The infection may have been caused by medics re-using needles during treatment.
"It's very rare indeed to have such a high number of people affected in the same place, that's why it's really worth investigating what happened," UNAIDS country director Marie-Odile Emond said.
She added that none of the most commonly HIV transmission paths - mother-to-child, sexual intercourse and drug use - seemed to cause the infection.
A total 82 people in a village in Battambang province, northwestern Cambodia, have been infected with the virus.
"Of 556 people tested, 72 of them came back positive for HIV/AIDS," Teng Kunthy, Secretary General of the National AIDS Authority, told AFP. Fourteen children are among the infected, he added.
"This is a higher rate than usual... It may be caused by the use of the same tools such as needles. This is our preliminary conclusion... we are working to collect more evidence," he said.
A further 10 people tested positive for the virus, local HIV/AIDS program director, Hei Sik, told AFP, adding that the villagers suspected the infection "may have been caused by injections from private local medics."
"This is a surprisingly high rate, the highest that I have ever seen. Some of them are women aged in their 70s and 80s," Hei Sik added.
At least 30 village residents told the National AIDS Authority (NAA) they had received injections for different maladies, from typhoid to fevers, from an unlicensed local doctor.
"I suspect we got this from the injection that a doctor in this commune did to the villagers who often went to get services from him," Seoum Chhorn, deputy chief of Roka commune, where the infection was centered, told the Phnom Penh Post. Chhorn, his wife and two grandchildren tested positive for the virus.
He identified the doctor as Yem Chren, who left the commune a week ago with his wife. Health officials have been trying to contact Chren since Sunday, but unsuccessfully.
"I want to appeal to the Ministry of Health and the government to intervene and help us immediately and take action against the doctor who treated and cheated the villagers when he is unskilled," added Chhorn.
Now the infected villagers are receiving antiretroviral therapy (ART) drugs from NAA to have the disease under control.
The first HIV case was reported in Cambodia back in 1991. Since then more than 76,000 people are currently living with the virus in the country, according to UNAIDS estimates from 2012.
Authorities are trying hard to stop the spread of the virus. Prime Minister Hun Sen promised to stop new HIV infections by 2020. Cambodia also allocated at least $ 3.7 million of national funding to HIV treatment from 2015 to 2017.