India bans ISIS after 'recruiting' Twitter account scandal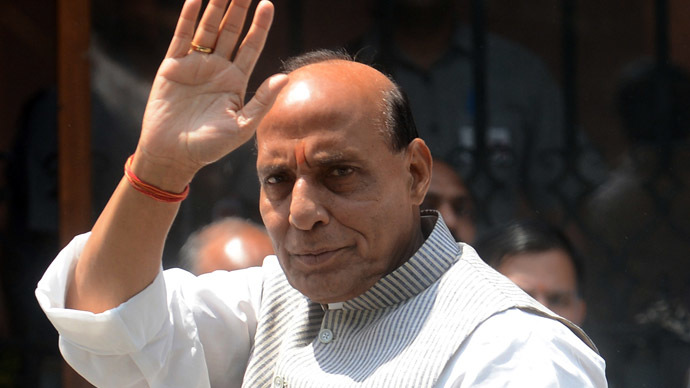 India's interior minister has announced a ban on the Islamic State militant group, formerly known as ISIS, in the country. Earlier, an ISIS sympathizer, who ran a Twitter account and was suspected of online recruitment, was arrested in the country.
"We had taken cognizance of Islamic State in Iraq and Syria activities in other countries," Home minister Rajnath Singh said on Tuesday as quoted by Reuters. "As a first step we have banned this outfit in India."
The government in New Delhi has kept away for a long time from banning ISIS as the group was not active in the country.
Though India has the third largest number of Muslims in the world, only four Indians are so far reported to have joined the Islamic State. At the same time, there are concerns that 39 Indian workers who went missing in Iran in June are held hostages by the militants.
READ MORE: Indian jihadist 'kills 55 for ISIS, quits because no pay'
"I would like to make it clear that ISIS's reach is limited to only a handful of young Indian Muslims," Singh added, as cited by the Times of India.
"Unlike other countries like France, Germany, UK and US, where families may be backing young Muslims to fight for ISIS, Indian Muslims, especially parents, have discouraged their young from supporting ISIS activities. But I want to make clear we are taking this seriously," he said.
On Saturday, Indian police arrested Mehdi Masoor Biswas, a 24-year-old employee, in Bengaluru. Authorities accuse him of running a pro-ISIS Twitter account and are trying to check if the account was used for online recruitment. His followers are over 17,000 and include some ISIS militants.
READ MORE: Al-Qaeda looks east, branches out to Indian subcontinent
Officials believe the ban will help to prosecute possible terrorists, though the measures will force them to act more covertly.
"I concede that online campaign for ISIS is a serious issue. There is a clear need to step up our cyber monitoring mechanism," Singh said.