93-yo 'Auschwitz guard' to stand trial in 2015 – court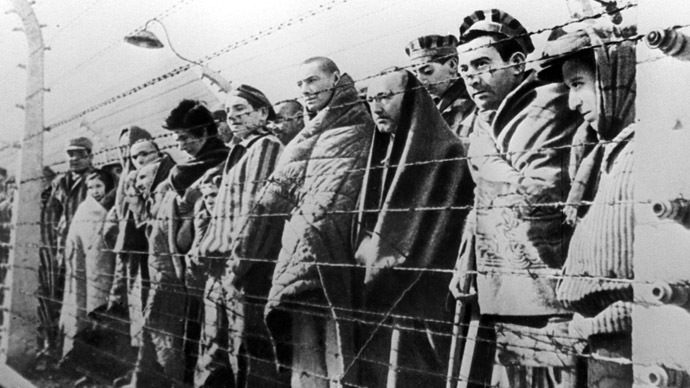 A 93-year-old German national implicated in the torture of inmates at the infamous Auschwitz death camp during WWII will stand trial next year for being an accessory to the murder of 300,000 people, a local court has ruled.
The man, identified as Oskar Groening, will be tried in the northern city of Lueneburg, near Hanover, in early 2015. State prosecutors have charged him with assisting the Nazi elite as a volunteer guard in 1942, his primary duties being to confiscate the luggage and money belonging to arriving prisoners.
Groening reportedly stayed on as an SS guard at the Auschwitz concentration camp in occupied Poland until 1944.
A total of 49 people at the trial will be co-plaintiffs, while 16 came forward with information that they've suffered directly at his hands. Eight of them will be admitted as witnesses.
The charges relate to a period between May and July 1944, when an estimated 137 trains carrying some 425,000 people, mostly from Hungary, arrived at the camp. According to the court's data, 300,000 of them were murdered immediately on arrival.
"The accused knew that, as part of the selection process, those not chosen for work and told they were going to the showers were really going to the gas chambers where they would be put to death in an agonizing manner," a September court statement read.
There is a push in Europe to catch old war-time Nazis and bring them before justice. A number of Nazi-hunter groups have sprouted up, such as the Simon Wiesenthal Center.
The news comes shortly after another German court, in Cologne, threw out a similar case involving an 88-year-old German charged over massacring 642 people in a French village in June 1944 – thought to be the worst massacre on French soil. But the charge of "aiding and abetting" didn't fly. The accused was found to be directly responsible for 25 of the deaths.
READ MORE: 88-year-old German charged over WWII French massacre
On December 9, the case was prevented from going to trial, following a decision by the court. The accused admitted to being there at the camp, but denied complicity in the murders.
One problem that affects such situations is that some of those accused of WWII crimes are simply too old to stand trial. In July, an 89-year-old alleged war criminal also once stationed at Auschwitz passed away just hours before a court in the US – of which he was a citizen – had given the go-ahead for his extradition to Germany.