88-year-old German charged over WWII French massacre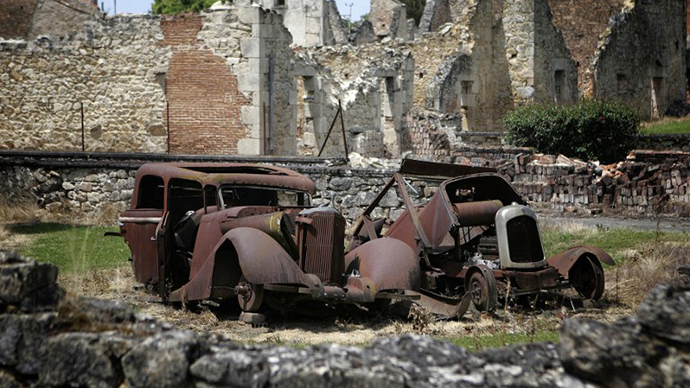 Germany has charged an 88-year-old man with involvement in what is considered one of the Nazi's worst massacres, when 642 people were murdered in a French village in June of 1944. The pensioner 'aided and abetted,' said a German court.
Oradour-sur-Glane, a village in central France, was the site of the horrific SS attack. Women and children were rounded up and imprisoned in a church while the village was looted, the men divided into four groups, taken to barns and machine-gunned down. Many of the victims were set alight in the barns.
A full 190 men were killed. A further 247 women and 205 children died after an explosive was set off in the church, which subsequently went up in flames.
The unnamed German, 19 at the time of the massacre, was indicted over taking part in gunning down the men.
"The prosecutor's office in Dortmund has charged an 88-year-old pensioner from Cologne over the murder of 25 people committed by a group, and with aiding and abetting the murder of several hundred people," said a statement released by the Cologne prosecutor's office on Wednesday.
He was also deemed complicit in the deaths of the women and children as he "provided a guard near the church," the court heard.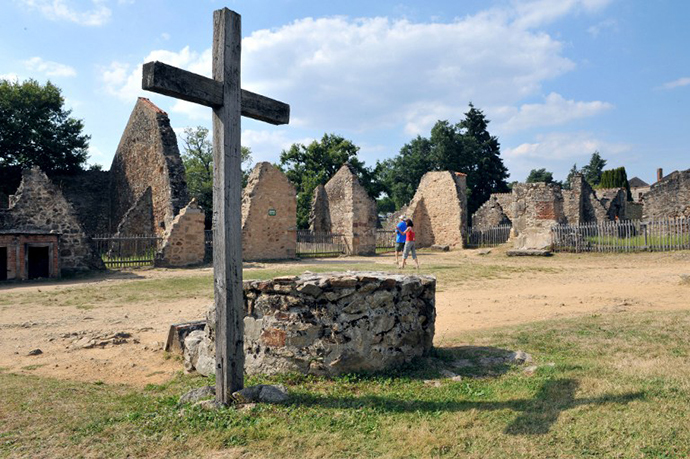 The village was left as a ghost town in the aftermath of the massacre, and burnt-out cars and ruined buildings serve as a solemn reminder of the atrocities committed by the Nazis.
Around 60 suspected accomplices, 20 of whom were convicted, were taken to court in the 1950s over the devastation caused. All were released at a later date.
On the same day as the conviction, a German court dismissed a further case against a 92 year old who had stood accused of murdering a Dutch resistance fighter. The decision was due to the evidence lost during the seven decades elapsed since the event.
The accused, Siert Bruins had been a member of the Waffen-SS (the elite armed wing of the SS). He had previously been sentenced to seven years in prison for the murder of two Jewish brothers in 1945, according to Reuters.
Prosecution told reporters that the decision had shocked him. "My client [the victim's sister] has waited 70 years for the murder of her brother to be atoned for," lawyer Detlef Hartmann told reporters. Bruins, along with another man, killed Aldert Klaas Dijkema with four bullets, one to the back of the head.
"This ruling is a slap in the face of the German justice system because it took 70 years to get this far and now we are at a point where the proof is insufficient and the case has to be stopped," Hartmann said.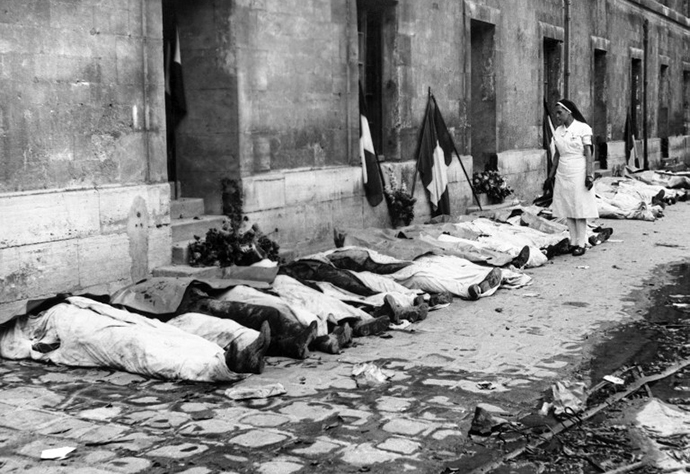 You can share this story on social media: