Belgium paralyzed in biggest transport strike in years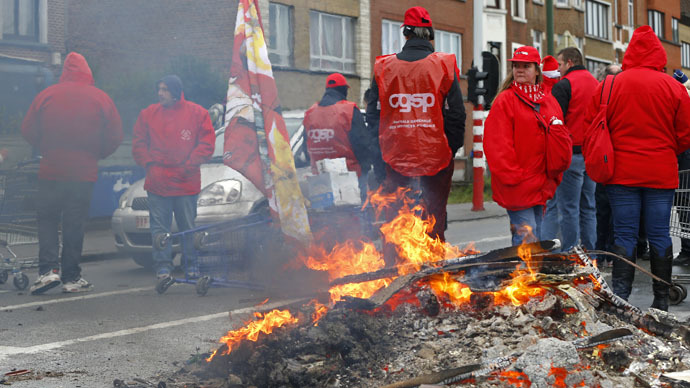 Belgium has been brought to a standstill, as air, rail and ferry workers nationwide embarked on their biggest strike in years. The 24-hour walkout over the government's austerity policies is set to ground 600 flights into and out of the country.
"All flights are cancelled. Everything is immobilized until the same time tomorrow," Florence Muls, Brussels Airport spokeswoman told journalists. Officials at Charleroi airport, just outside the capital, earlier said that incoming traffic would be diverted starting 21:00 GMT on Sunday, while outgoing flights would be cancelled.
A "real disaster" is how Charleroi Airport managing director Jean-Jacques Cloquet called the delays and cancellations. With the busy holidays travel period approaching, travelers should expect to see the effects of the strike in the days ahead, the airport chief warned.
Travelers at Liege, Antwerp and Ostend airports are all feeling the blow as well.
The same 24-hour timeframe applies to the national network of SNCB train services. Other rail services simply won't travel to the capital, Eurostar says its London-Brussels trains will terminate in Lille, France and will not continue across the border into Belgium. The company expects further disruptions early on Tuesday, and outbound services to the Netherlands, Germany and France are also facing cancellation.
Une #grève nationale en #Belgique pour dire non aux mesures d'austérité http://t.co/h7F56f6g27@FGTBwallonne@La_CSCpic.twitter.com/47SbTSEpYn

— Equal Times (@equaltimes) December 15, 2014
Belgium is also experiencing school, factory and other business closures on Monday.Bus services have joined the nationwide strike, together with other ground services and the metro.
The protests are led by a number of leading trade unions, and began in November, when clashes broke out as more than 100,000 protesters marched in Brussels against the government's austerity measures. Police deployed water cannon as dockworkers, metalworkers and students took to the streets.
READ MORE: Clashes, water cannon as 100,000+ march in Brussels against austerity (PHOTOS)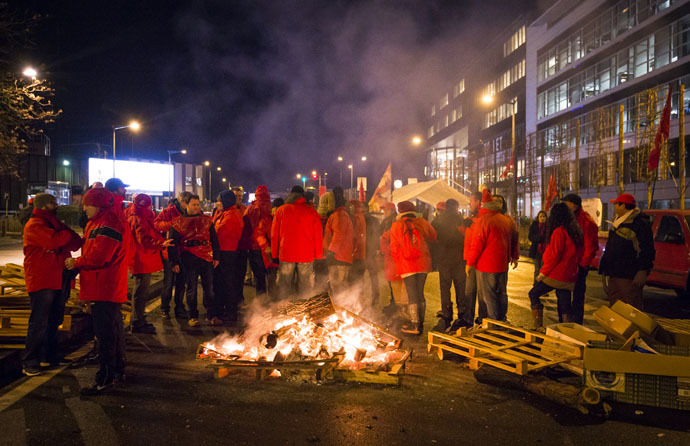 The new Belgian government, which assumed power in October, has caused unrest with plans to raise the retirement age, cancel a wage rise for government workers in line with inflation, and cut health and social security benefits - moves that protesters say undermine the country's welfare state. The cuts are intended to save €11 billion ($13.8 billion).
Strike @ Brussels Airport - heart of Europe... Hum #brussels#grevepic.twitter.com/B9Q8uoMXJ7

— Charlotte H. (@chachastweets) December 15, 2014
The country had been without leadership for five months before a four-party governing coalition was forged between Belgium's primary center-right parties. At 38, Prime Minister Charles Michel is one of Europe's youngest leaders, and the country's youngest in 200 years. His pro-business Reformist Movement (MR) is spearheading the austerity policies the protesters take issue with. He plans to implement the cuts over a five-year period.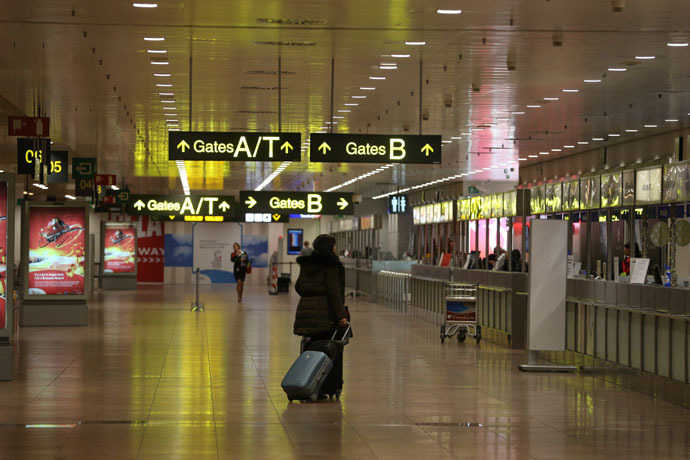 Monday's strike is a culmination of preceding smaller events, all transport-related. "The government keeps saying there is room for negotiation on the very serious measures that have been decided, but the trade unions remain without concrete answers," General Federation of Belgian Labor (FGTB) union member Philippe Van Muylder told Belga news agency before Monday's walkout.
"There is no dialogue."
Threats to the job and welfare sectors are felt across much of the EU.
#Belgique - Une grève anti-austérité d'ampleur "historique" : http://t.co/eGuIXg3AmMpic.twitter.com/utkw48Lcgp

— Le Point (@LePoint) December 15, 2014
On December 12, two of Italy's biggest trade unions amassed 40,000 people to protest Prime Minister Matteo Renzi's reforms, which they feel are hitting the poorest people the hardest. The country is in its longest recession since WWII, and the government says the measures are needed to jump-start the economy.
In France, thousands of university staffers and students have expressed their outrage over education budget cuts, with facilities they say are "literally in ruins." Joined by trade unions, they marched with banners to protest the "profound crisis" in higher education.
Spain, which has been in the grip of violent rallies throughout the crisis, has recently passed an anti-protest law, giving the government sweeping authority to deal with dissent harshly, with fines of up to €600,000 ($746,000) for anyone who stops a public service building from operating normally.
Protesters have also been coming out by the thousand in Greece to protest EU austerity, just as the Athens Stock Exchange had its biggest drop since 1987.