Palestinians to seek official UN resolution for Israeli pullout in 2 years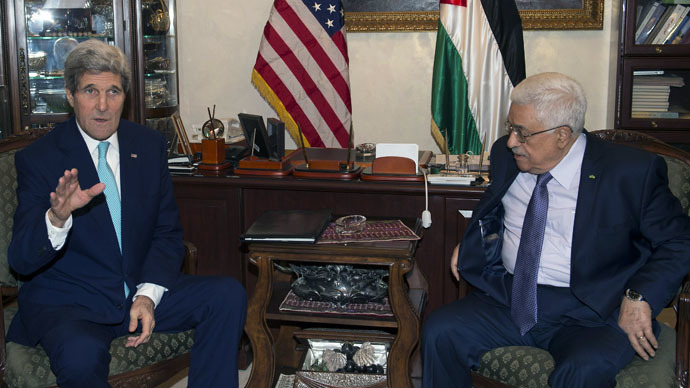 The Palestinians are to seek a UN resolution for a two-year deadline to an Israeli pullout from the occupied territories. They will also ask for East Jerusalem to become their capital and attempt to ban Israeli settlement-building under international law.
The draft Security Council resolution is to be presented on Wednesday, according to senior Palestinian Liberation Organization member, Wassel Aby Yussef, after a meeting in Ramallah.
Israeli Prime Minister Benjamin Netanyahu has said: "Israel will stand firm against any efforts to dictate terms and will repulse all attempts to bring terrorism into our homes." His comments come on Monday, shortly before heading to Rome to meet US Secretary of State John Kerry, amid a Europe-wide push for Palestinian autonomy.
"Time after time, we have repulsed attempts to dictate terms that would hurt Israel's security and were not compatible with real peace," the PM added.
Kerry is to meet the chief Palestinian negotiator at the Arab League Saeb Erekat later in London, where the latter will try to convince the US not to use its veto power against Palestine.
Israel, America's close ally, is pushing the other way, and has historically enjoyed veto protection by the US on dozens of occasions regarding allegations of war crimes and international law transgressions leveled by Palestinians. But a senior US official told Reuters it was too early to say what Washington will do now.
Following the meeting in Ramallah, convened by Palestinian leader Mahmoud Abbas, the Palestinians said in a statement they were ready with a draft resolution for the UNSC, to be presented after Kerry was done with the Arab League delegation.
It has been suggested that the hastiness of the meetings means Kerry is trying to find common ground between the two. France, Britain and Germany are also discussing a proposal, but have not yet agreed, and the US hasn't been included in the Europeans' efforts.
"There is a window of opportunity now, there is a willingness from them to consider ... options at the Security Council," one Western diplomat told Reuters, regarding American participation on a binding resolution with an unspecified timeframe. But one American diplomat said the US still feels that a decision on this might be premature.
"These things are all very much in flux; it's not as if we're being asked to take a position on any particular Security Council resolution right now. It would be premature for us to discuss documents that are of uncertain status right now," he told Reuters.
A draft text for the two-year pullout deadline was circulated by Jordan in November, with Netanyahu strongly against from the beginning, saying that any withdrawal of Israel's military from the occupied West Bank would result in
"Islamic extremists"
in Jerusalem, and on Tel Aviv's doorstep.
"The Palestinian draft through the Jordanians contains a hard deadline for the withdrawal from the West Bank of two years, so that is not the way we would look at handling a very complicated security negotiation by simply mandating a flat deadline of two years," the US official added.
In September, Abbas made it clear that he would be seeking "a firm deadline."
READ MORE: Abbas demands Israelis stop occupation, ghettoization of Palestine
Washington has started taking a more tough position with Israel over its settlement-building, widely considered to contravene international law. The two have been clashing more frequently recently over the territories Israel took from the Palestinians in 1967, during the Middle East war.
Israel is now uncertain whether the US is still onboard to help it ensure Palestine doesn't become independent.
Kerry tried to broker a peace deal, but negotiations broke down in April, which was followed by the latest military confrontation between Israel and the Palestinian Hamas militants during operation Protective Edge, which killed thousands of Palestinian civilians.
The summer's operation lasted less than two months. The damage it caused aroused an international outcry and numerous legal probes, both external and internal.
You can share this story on social media: