Haiti PM steps down amid anti-govt protests (PHOTOS, VIDEO)
Published time: 14 Dec, 2014 15:30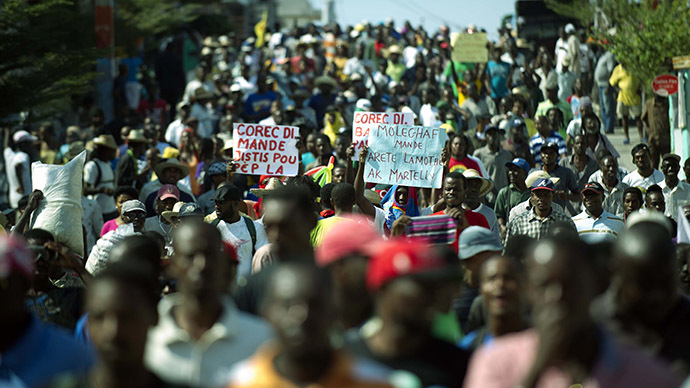 Haitian Prime Minister Laurent Lamothe has announced his resignation following an eruption of long-brewing political discontent, and a commission's recommendation that he step down.
In a televised address early on Sunday morning, Lamothe said he was leaving his post "with a sense of accomplishment."
"This country has undergone a deep and dynamic transformation and a real change in benefit of its people," he told the beleaguered nation.
Months-long demonstrations calling for a change in leadership escalated on Friday as UN peacekeeping troops opened fire on a group of anti-government protesters in Port-au-Prince, after the demonstrators burned tires and threw rocks at police. Protests have spread to other cities, including Gonaives and Cap-Haitien.
On Saturday, a man was found dead at a Port-au-Prince protest, during which police fired tear gas. Though the cause of death was not immediately established, the man was reportedly shot at least once in the wrist.
Disgruntled Haitians protested the long-delayed elections and demanded the resignation of both Lamothe and President Michel Martelly. They accused both leaders of mismanaging the organization of elections that have been repeatedly postponed since 2011.
"We demand the departure of this administration and the organization of free, honest and democratic elections," said a demonstrator, as quoted by the Global Post late last month.
The administration blames six opposition senators for the election delay, accusing them of trying to hold on to their seats without elections. The senators claim the legislation authorizing the vote unfairly favors the government. Opposition leaders accuse Martelly of trying to return Haiti to dictatorial rule.
If elections are not held before parliament is dissolved in mid-January when the terms of 10 senators' expire, Martelly will rule the country by decree.
After a government appointed commission recommended Lamothe and several other top administration officials step down earlier this week, Martelly declared his support for the decision and applauded Lamothe for "his courage and determination to help Haiti."
Martelly did not say whether he was considering resignation as well.
The struggling nation—the poorest in the Western Hemisphere— is still reeling from the aftermath of a devastating earthquake in 2010 that left thousands dead and its infrastructure in ruins.